Details released at Hunkeler Innovationdays.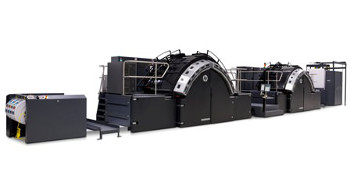 HP T410 Color Inkjet Web PressHP announced an expanded range of coated and uncoated papers using ColorPRO Technology at Hunkeler Innovationdays which was held in Lucerne, Switzerland, 11 – 15 February 2013.
The new ColorPRO branded papers are optimised for use on HP Inkjet Web Presses and do not require the use of a bonding agent. HP also confirmed that the new offerings include a SAPPI Jaz Book Paper and a new relationship with Crown Van Gelder (CVG).
"Our new offerings allow us to address our customers' need to print on a wide range of media while delivering unique products that meet end-user demand," said Aurelio Maruggi, vice president and general manager, Inkjet High-speed Production Solutions, HP. "By working with leading companies that offer inkjet optimised uncoated and coated papers with ColorPRO Technology, we give customers the flexibility to print on a variety of media."
Designed specifically for publishing applications, the Jaz Book is being marketed as an ideal choice for the education market. It is a low-weight (67 gsm), inkjet coated paper with a matt finish that features, high opacity, sharp text and smooth colours.
SAPPI's new Jaz Book paper with ColorPRO Technology is the result of the company's exclusive agreement with HP to develop inkjet coated papers for high speed inkjet printing. The paper is now available to HP Inkjet Web Press customers in Europe and Asia.
HP also announced CVG as a new partner to the ColorPRO programme for uncoated papers in Europe. CVG will provide a range of exclusive papers with different finishes using ColorPRO Technology.
SAPPI Jaz (courtesey of SAPPI)The ColorPRO brand has been introduced to represent a quality standard for colour excellence in digital printing, based on the use of a defined set of technologies, and meeting strictly defined performance specifications.
ColorPRO Technology will be found in products of third-party licensed partners. HP has said all materials that carry the ColorPRO Technology logo will demonstrate visibly enhanced print quality. The products are optimised for the HP Web Press family.
Additional information about HP Indigo digital printing solutions is available at www.hp.com/go/gsb

---
Follow us on Twitter - @DigiPrintNews
Like us on Facebook www.facebook.com/dpnlive - click the 'LIKED' button/top of page as well
Copyright © 2013, DPNLIVE – All Rights Reserved