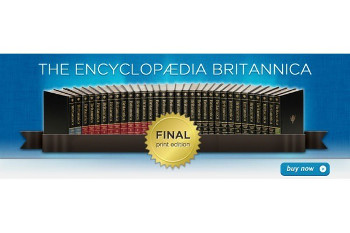 News that the Encyclopaedia Britannica will cease publication after 244 years has led many observers to speculate that the move was forced by the success of online encyclopaedia Wikipedia. The move signals another win' for online digital media as the battle between print and the internet intensifies.
The Encyclopaedia Britannica was launched in Edinburgh in 1768 and a new version of the publication was available every two years. With the latest 32-volume collection costing £1,195, in one way it's easy to see why the cost has become prohibitive compared to Wikipedia's free access via the net.
Unknown to many, Britannica has been operating from the US since 1929 although it still retains British spelling.
The publication, available online since 1994, also has several smartphone and tablet apps.
The company said it would continue to sell print editions until the current stock of around 4,000 sets runs out.
Britannica's boss, Jorge Cauz, has predicted that in future many publications will never have a print analogue and will only be printed on digital formats. He also warned that many trade publishers would not survive the ever-increasing dominance of online due to print editions being effectively out of date the moment they are printed.
It is believed that Britannica Online will be free to access in full for a week after being updated, a move designed to showcase its content against Wikipedia.
So it boils down to the quality of each company's database and, more importantly, the quality of the editorial.
In the case of Wikipedia it uses a complex system of volunteer editors which has prompted accusations from some quarters that this has meant provision of inaccurate information.
At the end of the day, particularly for scientific articles, the level of inaccurate information on either site will determine who wins this battle. For the normal person on the street, Wikipedia has already won.
Copyright © 2012, DPNLIVE – All Rights Reserved