Irish Stock Exchange to launch

dedicated exchange for aviation finance.
Creating a specialist debt listing platform to enhance Ireland's status as a global centre in aviation finance
ISE already home to 26 aviation debt listings with a total value of $12.7 billion
Initiative welcomed by industry participants including Boeing
The Irish Stock Exchange (ISE) has announced plans to create a dedicated exchange for aviation-related debt and other instruments.
The exchange will offer a highly efficient, low-cost platform delivering better visibility, greater investor reach and improved market intelligence.
The announcement was made ahead of this week's 16th Annual Global Airfinance Conference 2014 in Dublin, a major aviation industry event that is being attended by over 1,000 senior aviation executives from around the world.
26 specialist debt instruments with a total value of $12.7 billion are currently listed on ISE markets by issuers from the aviation industry. These include:
a $927m EETC* from International Airlines Group (the parent of BA and Iberia)
bonds totalling in excess of $1bn associated with Emirates Airlines
a $636m Asset-Backed Security from Avolon (a commercial aircraft leasing company)
In addition to debt instruments with a total value of $12.7 billion, the ISE is also home to equity listings for Ryanair and Aer Lingus
*[EETC = enhanced equipment trust certificate – a specialist instrument to finance the purchase of aircraft]
The dedicated platform aims to be an international hub for aviation finance assets creating a market that will be enhanced by specialist knowledge of the industry in Irish-based leasing, broking and corporate finance firms.
ISE Chief Executive Deirdre Somers said:
"Ireland is a world leader in aviation finance and the Irish Stock Exchange is a world leader in debt listings. We want to combine these skills to make Ireland even more attractive for aviation issuers and investors.
We are creating a dedicated platform specialising in aviation-related debt instruments that will provide issuers and investors with what they are looking for – visibility and specialist knowledge of their sector".
Ms Somers said Ireland is already the world's biggest centre for aircraft leasing, with more than half of aircraft leasing worldwide led by companies based here.
"Ireland is home to more than 30 companies engaged in this high-value, high-skilled sector. It is also home to two of Europe's best-known airlines in Ryanair and Aer Lingus. Investors and issuers around the world are familiar with Ireland's expertise in aviation and it makes sense to build on that," she said.
The dedicated platform is expected to give greater visibility to Ireland's profile generally, and the ISE particularly, in the aviation finance sector.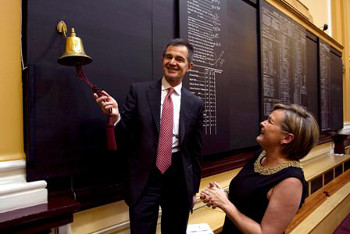 Kostya Zolotusky and Deirdre Somers The ISE has worked closely with Enterprise Ireland's Aviation Forum as well as stockbroking firms and aircraft leasing companies to advance plans for a dedicated exchange, and the initiative has been welcomed within the global aviation industry.
Boeing expects the public capital markets where aircraft-backed financial instruments are traded to provide a fifth of the world's delivery financing in 2014.
Kostya Zolotusky, Managing Director, Capital Markets Development and Leasing at Boeing Capital Corporation, the jet builder's financing and leasing unit, said:
"Ireland's unique position at the epicentre of global aircraft leasing is well recognized".
Boeing also expects new structured financial instruments will be developed to meet the needs of leasing firms and others.
"We congratulate Ireland on recognizing that and we look forward to continued evolution and innovation in how aircraft-securities are packaged," said Mr Zolotusky.
Joe Gill, Chairman of Enterprise Ireland's Aviation Forum and Director of Corporate Broking with Goodbody Stockbrokers, said:
"With over $110bn of aircraft assets being delivered annually worldwide, the need for innovative funding by capital markets will only grow in line with an expanding aircraft leasing sector.
Ireland can provide a valuable platform to connect retail and institutional investors with key aviation companies in this key financial services sector and Goodbody is committing resources in support of that ambition.
The ISE is a flexible, efficient and competitive platform that can be used by issuers and investors alike to further develop this key transport infrastructure globally".
Irish Aviation Authority Chief Executive Eamonn Brennan said:
"It's estimated that the demand for new aircraft over the next 20 years will be in the region of US$3.5 trillion to fund nearly 30,000 new aircraft worldwide. Ireland has a great opportunity to play a part in this market".
Tom Woods, Head of Aviation Finance and Leasing at KPMG said:
"Ireland continues to develop as an attractive environment for raising debt and equity. With the anticipated significant capital markets activity in the coming years to finance aircraft, this is a particularly opportune time for the ISE to launch this very welcome initiative".
Catherine Duffy, Head of Aircraft Finance at A&L Goodbody said:
"This initiative by the ISE will further bolster Ireland as the global centre of excellence for aircraft financing. Ireland is ideally placed to attract increased capital markets activity and therefore we very much welcome this development by the ISE".
Further Information
Ailish Byrne
Head of Public Affairs and Communications
Telephone +353 1 617 4200
Mobile + 353 87 2380265
This email address is being protected from spambots. You need JavaScript enabled to view it." mce_' + path + '\'' + prefix + ':' + addy85046 + '\'>'+addy_text85046+'<\/a>'; //-->

www.ise.ie
Follow us on Twitter - @DigiPrintNews
Like us on Facebook www.facebook.com/DPNLive - (click the 'LIKED' button/top of page as well)