Life sciences Company, Malin, raises €330m through its IPO on the ISE.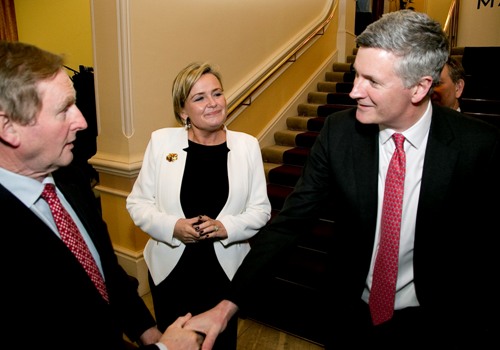 An Taoiseach, Enda Kenny TD, is greeted by Dr Adrian Howd, CEO of Malin with Deirdre Somers, CEO, Irish Stock Exchange at the launch of the Malin IPO at the Irish Stock ExchangeMalin Corporation PLC (Malin), the Irish-based global life sciences company, has raised €330million from international investors as part of its initial public offering (IPO) on the Irish Stock Exchange (ISE). It is one of the largest life science IPOs ever to take place in Europe.
Malin has been admitted exclusively to the Enterprise Securities Market (ESM) and will trade under the ticker MLC.
Malin intends to acquire majority or significant minority equity positions in private, pre IPO, pre trade sale operating businesses in the life sciences industry. Through its "hands on" operational involvement, Malin will work with these companies to enable them to reach the full potential of their value proposition and to achieve commercial and sustainable success. Malin broadly categorises its interest in the life sciences industry across therapeutics, devices and diagnostic market segments.
Welcoming Malin to the market, Deirdre Somers, ISE CEO said: "We are delighted that Malin is the first company to list on the ISE in 2015. We are proud to be the exchange of choice for one of Europe's biggest ever biotech flotation's."
John Given, Chairman of Malin, at the launch of the company at the ISE said: "We decided to pursue an IPO on the ESM as we believe that as an Irish company Malin should have an Irish listing and the ESM is an ideal exchange for our Irish, European and global investor base who have participated in the offering and who share our long-term vision for Malin.
Dr Adrian Howd, Malin's CEO added: "We are well-placed to achieve our goals of creating long term value for shareholders and improving patients' lives globally by building a leading international life sciences company with world class scientific, medical and business leadership from our Irish base."
An Taoiseach (Irish Prime Minister), Enda Kenny, speaking at the ISE said: "I'm delighted that an Irish company is one of the biggest biotech IPOs in European history, which is a boost to Ireland's reputation as the best small country in the world for business. I'm also pleased that the company has chosen to raise funding of €330m through an Irish only listing on the ESM. It is a testament to the company that it has attracted such strong international investor interest and that it is happening with the support of the Ireland Strategic Investment Fund (ISIF), which was formally established by Government at the end of last year. It is encouraging to see that, as part of Malin's arrangements with ISIF, it will establish or relocate at least 10 companies in Ireland which will employ at least 200 people in Ireland on a full-time basis."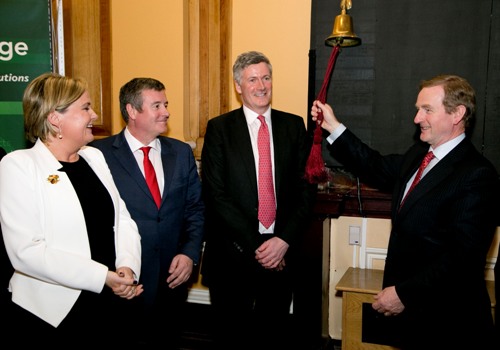 An Taoiseach, Enda Kenny TD, rings the bell at the launch of the Malin IPO at the Irish Stock Exchange, watched on by (L-R) Deirdre Somers, CEO, ISE, and John Given and Dr Adrian Howd from MalinEugene O'Callaghan, Director, Ireland Strategic Investment Fund (ISIF), added: "This investment is consistent with the ISIF's 'double bottom line' mandate to seek both a commercial investment return and a significant economic impact from the investments it makes. The commitments we have agreed with Malin demonstrate that our investments are designed to stimulate high-quality economic activity in Ireland, support employment in Ireland and deliver commercial investment returns. We look forward to supporting many more commercial investments in Ireland, including companies in high-growth sectors that are candidates for further IPOs."
Minister for Jobs, Enterprise and Innovation, Richard Bruton TD, said: "Life sciences is a key sector which we have targeted as part of our Action Plan for Jobs, with specific focus on Irish companies, and today's announcement is a huge boost. Malin's commitment to add at least 200 new jobs and to invest at least €150million in Irish life sciences companies over the next five years is particularly welcome. Its decision to source international investors through capital markets demonstrates that these options can be pursued by other quality Irish companies in this sector. I wish John, Adrian and the team every success with this project".
Further Information
Ailish Byrne
Head of Public Affairs and Communications
Telephone +353 1 617 4200
Mobile + 353 87 2380265
This email address is being protected from spambots. You need JavaScript enabled to view it.
www.ise.ie
Press release by The Irish Stock Exchange 25 March 2015
You can Tweet, Like us on Facebook, Share, Google+, Pinit, print and email from the top of this article.