Company sees Landa Nanography™

as a 'game changer' for the print industry.
---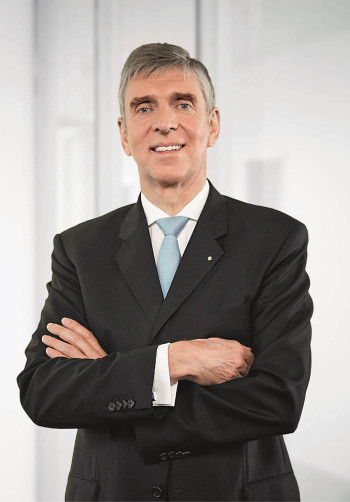 Dr Matthias L Wolfgruber CEO ALTANA AG It's been announced that the specialty chemicals group ALTANA and Landa Corporation have just concluded an equity financing agreement under which ALTANA will invest €100 million (US$135 million) for a minority stake in Landa Digital Printing.
---
The agreement is seen by both companies not only as a financial investment, but also as the beginning of a long-term strategic partnership to bring digital printing solutions to the commercial, packaging and publishing markets. The deal does not involve other units of the Landa Group, including Landa Labs and Landa Ventures.
Both parties confirmed that the proceeds will be used for completing the development of Nanography, Landa's water-based digital printing process, including engineering and production ramp-up of Landa Nanographic printing™ presses and the building of manufacturing plants for Landa NanoInk™ colorants.
Industry sources said ALTANA is expected to be an active partner, by drawing on print industry expertise gained from its divisions including BYK Additives & Instruments, ECKART Effect Pigments, and ACTEGA Coatings & Sealants.
"We are extremely excited to be partnering with an industry visionary like Benny Landa. We speak the same language in terms of innovation," said Dr. Matthias L. Wolfgruber, CEO, ALTANA AG. "I am confident that we are investing in a game-changing technology that can enable the printing industry to thrive in the 21st century and help our customers position themselves well for the future."
"We see our alliance with the ALTANA Group as a key milestone for our company and a strong vote of confidence in our mission to bring digital printing to mainstream commercial, packaging and publishing markets," added Benny Landa, Chairman and CEO of Landa Corporation. "ALTANA brings a wealth of relevant industry and market experience as well as worldwide manufacturing expertise, which will be of great value as we expand our presence globally."
For more information visit www.altana.com and www.landanano.com
Follow us on Twitter - @DigiPrintNews
Like us on Facebook www.facebook.com/DPNLive - (click the 'LIKED' button/top of page as well)
Copyright © 2014, DPNLIVE – All Rights Reserved.