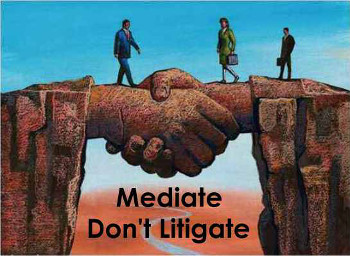 A supreme Court Judge made the comment that mediation is a "no-brainer" for business and she particularly singled out legal disputes involving the banking and insurance sectors.
Speaking at recent Irish Commercial Mediation Association function (ICMA) Justice Fidelma Macken said that a significant amount of money was unnecessarily spent on litigation where it was obvious that a more appropriate and effective option may have been mediation.
In Ireland the cost of litigation is estimated to be over twice as high as in other countries. Typically costs for a €200,000 claim run to over €50,000 while in the rest of Europe the cost for a similar claim would be nearer €25,000.
When this is compared to the cost of mediation on the exact same amount, the figure drops dramatically down to €7,000.
Judge Macken also pointed out the significant amount of time spent preparing for and actually going to court.
"Anything that can be done to prevent people spending time away from their business at the moment needs to be taken seriously," she said.
Statistics show that on average a legal business dispute can take up to 500 days to resolve where, according to the ICMA, mediation takes in the region of 40 days to decide.
Copyright © 2011, DPNLIVE – All Rights Reserved