20th October 2011 | Robert Tallent | The Synergy Group
---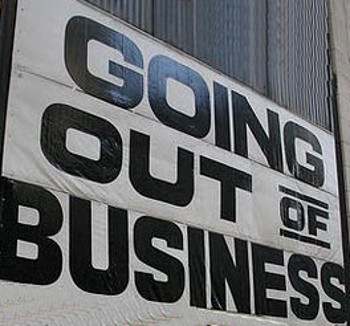 I'm not trying to be negative here or put the mockers on you, I'm just reporting the cruel hard business facts of the past mon.  The tables below show companies that have gone out of business, had liquidators and receivers appointed, court petitions, judgements, struck off by the CRO, etc.  Have you dealt with any of the businesses in the list below?
Just Appointed:

LIQUIDATORS APPOINTED TO

47 Companies »

RECEIVERS APPOINTED TO

5 Companies »

EXAMINERS APPOINTED TO

0 Companies




Upcoming Meetings of Creditors:

TO APPOINT A LIQUIDATOR

16 Companies »

NOTICES TO CREDITORS

1 Company »

FINAL MEETINGS

17 Companies »




Court Orders & Petitions:

HIGH COURT PETITIONS

5 Companies »

COURT ORDERS

15 Companies »




Recent Judgments:

RECENT JUDGMENTS

View Companies »




Latest Changes:

COMPANY CLOSURES

162 Companies »

NEW COMPANIES

162 Companies »

NEW BUSINESSES

680 Businesses »

STATUS CHANGES

913 Companies »




Strike Off and Struck Off Companies:

STRIKE OFF LISTED

316 Companies »

STRUCK OFF COMPANIES

243 Companies »
Here is a list of Judgments, loaded in the last 14 days (ending 20/10/2011).
Please note that this list may not be complete.
COMPANY NUMBER

COMPANY NAME

JUDGMENT DATE

341058

Bactact Limited
Dublin 2

07/10/2011

461634

Cappra Ftsb Limited
Co. Mayo

07/10/2011

475672

Chamarie Limited
Co. Westmeath

07/10/2011

417199

Dromchla Cumhacht Teoranta
Co Mhaigh Eo

07/10/2011

Mary Steen
Castleknock, Dublin 15

07/10/2011

118714

Mc Cormack Aluminium Limited
Co. Kilkenny

07/10/2011

466580

New Design Window Systems Limited
Wexford Road Business Park Carlow

07/10/2011

408122

Site Force Developments Limited
Co. Carlow

07/10/2011

T/As Royal China Chinese Restaurant
Portlaoise, Co Laois

07/10/2011

400170

Trademarc Design & Print Solutions Limited
Co. Donegal

07/10/2011

106863

Accolade Limited
Dublin 3

06/10/2011

293017

Cecilia Stores Limited
Dublin 2

06/10/2011

463782

Celtic White Smile Limited
Co Clare

06/10/2011

Edward Coll
Letterkenny, Co Donegal

06/10/2011

341145

J.F.Q. Transport Limited
Co Clare

06/10/2011

415326

Mps Global Limited
Dublin 2

06/10/2011

295340

G. M. G. Mechanical Services Limited
Co.Donegal

05/10/2011

337324

Ked Developments Limited
Co Roscommon

05/10/2011

444793

Master Heat Limited
Celbridge Co. Kildare

05/10/2011

T/As Corrigans
Drogheda, Co Louth

05/10/2011

T/As Houlihans Bar
Kilmallock, Co Limerick

05/10/2011

T/As Joseph Flynn Site Excavations
Blessington, Co Wicklow

05/10/2011

445215

Winmedia Ireland Limited
Co.Kildare

05/10/2011

230205

Ab Menswear Limited
Co. Dublin

04/10/2011

418743

Claureen Developments Limited
Co. Clare

04/10/2011

Declan O'Sullivan
Ballinhassig, Co Cork

04/10/2011

368961

G.T. Mar Limited
Limerick

04/10/2011

396672

Gold Mill Properties Limited
Co. Donegal

04/10/2011

John Doorley
Malahide, Co Dublin

04/10/2011

279198

Mulheron Limited
Dublin 2

04/10/2011

382855

P. Good & Son Limited
Cork

04/10/2011

T/As Noel Cullen Mechanical Services
Malahide, Co Dublin

04/10/2011

78002

Universal Bearing Systems Limited
Dublin 22

04/10/2011

334289

Asylum Skateboard Distribution Limited
Dublin 11

03/10/2011

325194

D & J P Manning Construction Limited
Co. Wicklow

03/10/2011

340863

Fast Track Building Systems Limited
Dublin 16

03/10/2011

313254

Niall Walsh Construction Limited
Dublin 2

03/10/2011

T/As Bisht & Sita Company
Lucan, Co Dublin

03/10/2011

T/As Evolution Electrical And Alarm
Ballyboughal, Co Dublin

03/10/2011

Michael Babyworld
Eastway Business Park, Limerick

21/07/2011

467168

Brennan Convenience Foods Limited
Co.Cork

13/04/2011
{jcomments on}