10 potential future IPO companies commence #IPOready programme at the Irish Stock Exchange.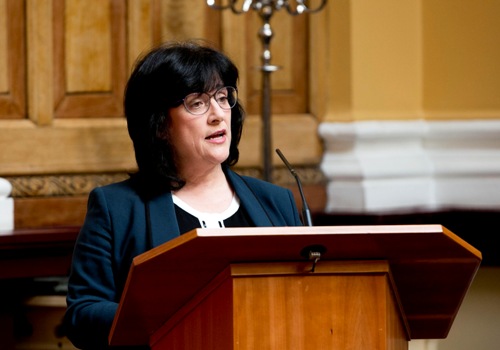 Anne Heraty of CPL Resources plc speaking to #IPOready participants Ten companies with ambitions to list on the Irish Stock Exchange (ISE) commenced the #IPOready programme (#IPOready) this week. #IPOready is designed to equip them with crucial skills in capital raising, investor relations and business management. Participants on the structured support programme include 20 CEOs and CFOs from the technology, food and leisure sectors.
20 CEO and CFOs taking part in #IPOready which commenced this week
Participants include companies from the technology, food and leisure sectors
#IPOready will educate companies on the requirements of listing on the ISE and develop their ability to attract domestic and international investors. It is being organised by the ISE with the support of Enterprise Ireland and includes lectures from corporate finance experts, investment practitioners and academics from DCU; coaching from mentors; and advice from senior ISE figures, entrepreneurs and leaders from Irish quoted companies.
Aileen O'Donoghue, Director of Strategy at the ISE, said, "We're delighted with the level of interest show in #IPOready. A key challenge for our economy is to build companies beyond the start-up and growth phases into fully-scaled, substantial publicly quoted companies. The companies participating in this programme include really exciting businesses which operate in sectors that have significant potential to grow and develop. We hope to see some of these companies take their place amongst our listed companies in the future and we believe this programme can play a crucial part in helping them to do so."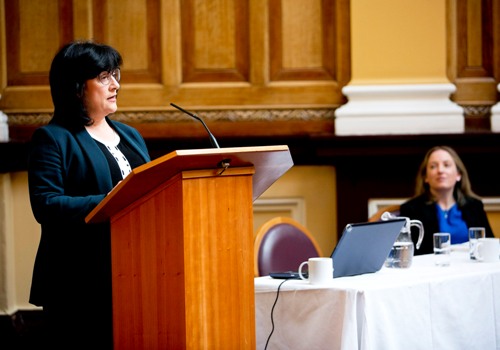 Anne Heraty of CPL Resources plc (Standing) and Orla O'Gorman, Head of Irish Market, Irish Stock Exchange Speaking about #IPOready, Anne Heraty, Chief Executive of CPL Resources (CPL), said that the structure of the programme would provide effective, relevant support to companies that are considering an initial public offering (IPO).
She added, "CPL has received many benefits from listing on the Irish Stock Exchange, not only did it provide access to international investors and capital, but it also raised the profile and brand awareness of CPL to a level which we would not have achieved as a private company."
Information on the #IPOready Programme
The #IPOready programme is giving participating companies:
A detailed understanding of large-scale funding options
Opportunities to network with other ambitious, fast-growing companies
Access to a network of top advisors, investors, entrepreneurs and academics with experience in growing companies to significant scale
Support in achieving plans for future international growth
The programme is being delivered in 3 phases over 15 months:
Phase 1 – Building core knowledge and skills
Phase 2 – Refining your business plan to make it IPO-ready
Phase 3 – Attracting investors, networking and accessing the equity markets.
Full details of the programme are available in the IPO Programme brochure available on www.ise.ie
Further Information
Ailish Byrne
Head of Public Affairs and Communications
Telephone +353 1 617 4200
Mobile + 353 87 2380265
This email address is being protected from spambots. You need JavaScript enabled to view it.  
www.ise.ie
Press release 11 March
You can Tweet, Like us on Facebook, Share, Google+, Pinit, print and email from the top of this article.