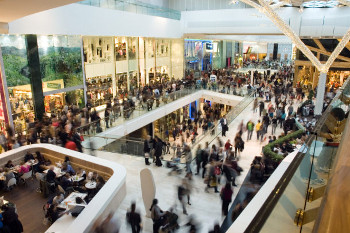 Visa Europe said that Friday 23rd December was the busiest day ever for shopping across Europe.  The payments technology company said it processed almost 50 million transactions, worth more than €2.6 billion, throughout the day as people hunted for their last minute Christmas purchases.
Throughout the day, shoppers used their Visa cards to spend almost €2 million every minute, with more than 70% of this spend on Visa debit cards.  This record spend equates to year-on-year growth of approximately 9%.
According to historical trend data from Visa Europe, the company said that the busiest shopping day has always fallen on the 23rd December. However, Visa Europe said that the busiest ever shopping hour actually falls outside of the busiest shopping day. With Christmas Eve taking place on a Saturday this year, Visa Europe predicts the biggest volume of transactions will take place in the hour from 12:00 until 13:00 this Christmas Eve as shoppers take advantage of the last work-free day before the festivities begin and they relax ahead of Christmas Day.
Visa Europe's processing centre, which has the ability to manage over 2,500 transactions per second, will be well equipped to deal with the expected 1,200 transactions taking place every second during the busiest hour across Europe as Dr Steve Perry, Commercial Director at Visa Europe commented:
"We've already seen strong growth in online sales and we expected that the 23rd would be the busiest ever shopping day for the amount of money spent on Visa cards, increasing by 9% compared against last year. While the 23rd was the busiest day in total, we are predicting that the hour when the most number of transactions will take place will fall on Christmas Eve between 12.00pm and 13.00pm where we anticipate a surge in transactions."
Visa bases its predictions on up to the minute spending data and previous years' Christmas spending trends. Over €1 in every €8 spent in Europe is on a Visa card, making this data one of the most reliable indicators of trends in consumer spending.
www.visaeurope.com
Copyright © 2011, DPNLIVE – All Rights Reserved