The Newspaper business is dead? Don't tell that to Hearst.
By Brett Lofgren | September 12, 2017
NewsWhip's Global CRO Brett Lofgren discussed the future of "print" in an interview with President of Hearst Newspapers Digital Media, Robertson Barrett.  
In the age of digital, how are print papers adapting? In the journalism industry, we constantly hear that print is dead. Last month, the New York community lost an iconic brand when the Village Voice announced plans to discontinue their print operation after 60 years. For those under a certain age, this publication was once the pulse of the city: good, bad and everything in between.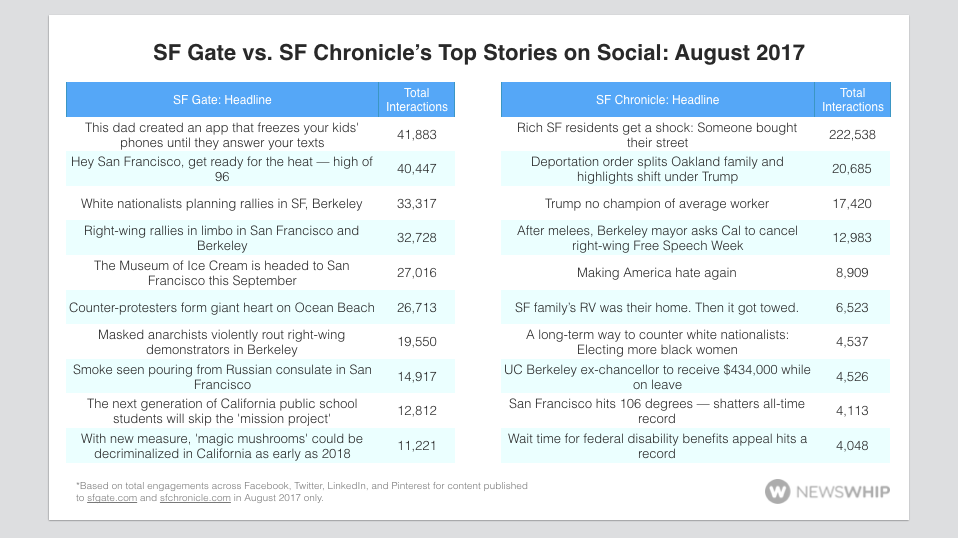 SF Gate Vs SF Chronicle
Is this just another sign of the inevitable? Maybe not. More publishers are taking digital strategies and applying to them to optimize their print operations. We turned to Hearst to tell us more.
Let's start by saying, Hearst is not just a Newspaper business, but a diversified, private media company with over 360 businesses in 150 countries with over $10 billion in revenue. But as we continued to read the headlines about Hearst's acquisition spree of Regional Newspapers, we wanted to learn more. What is the secret sauce behind growing a Newspaper business? Last month, we sat down with Robertson Barrett, President at Hearst Newspapers Digital Media for some Q&A. 
1) Stay local 
Brett: Hearst Newspapers has acquired dozens of newspapers since 2016. Considering the current landscape of news and content consumption, how are you able to do this effectively?
Rob: Hearst Newspapers is still part of a family-owned company. The identity of Hearst newspapers is very clearly local and our strategy has been regional excellence. We stay true to our core — super-serve the region. We acquire these new businesses to capture the revenue, and set up hubs for that region.  Our priority is to focus on the local proposition, and focus on nailing that.
2) Deepen the engagement
Brett: Can you tell us about the strategy in some of these local markets?
Rob: It's about deepening the engagement. The most efficient way to drive more readers was not to go for 100 percent reach in the market but to go for more engagement. A big thing we did was combine the Newspaper with a Digital offering, creating a free and premium website. So San Francisco has sfgate.com and sfchronicle.com.
The SF Gate property is fast, buzzy, and run by a separate digital editorial team. SF Chronicle is run by the core newsroom. By freeing up those sites to be more competitive editorially & more savvy on sharable content, we are able to take advantage of the toolsets you get from companies like NewsWhip. The traffic has grown from 20 to 60 percent reach by focusing this way.
image: https://13357-presscdn-0-23-pagely.netdna-ssl.com/wp-content/uploads/2017/09/topstoriessfgc.png
From there, we started looking at the opportunities for deeper engagement. We want to provide more options for these readers and find the things that will keep people coming back. If we just increased the loyal audience, the loyal users were people that were 25 times more likely to subscribe.
Whether it's a subscription to a newspaper website or news bundles or sports information, it's very hard to get people interested in those if they're fly-bys coming in through Facebook and read one story and they leave. We want those too, but we've done well enough that the next stage is that "we've already gone wide, now let's go deep." 
3) Building products
Brett: A lot of newspapers have gone down that path of combining digital, what makes this unique?
Rob: Hearst Newspapers has been around since 1887.  We have 4,000 employees across the nation, publishing 22 dailies and 64 weeklies… but we are obsessed with building products. In each region, we build a digital marketing service, invest in supporting agencies and provide a robust data infrastructure to sit alongside the newspaper itself.
In San Antonio, we started an effort called Spurs Nation. It wasn't just a website or magazine, it was a whole platform, with a print product and local TV show on Sunday nights, and digital video. The Spurs actually ended up working with Spurs Nation. There's enough of a grip on the community that the team participates.
UGC is going to play a large part because we can't possibly staff enough writers when what we want to do is shepherd discussions, incorporate data, and have an engaging enough community that users are contributing and have enough premium offerings. We're building a similar project now in Houston, which is essentially a regional version for all sports. It's a much more complex project. 
4) Leverage the data
Brett: How can you create a "product-driven" Newspaper?
Rob: To go deep and be loyal, we're making a big investment in data, because the idea is to know as much about the users as possible and to know more about the market so that we can target new offerings. The data gives us the fundamental business intelligence that we didn't have.
Additionally, we recently doubled our staff and added in key people like David Ho, our vice president and executive editor at Hearst Newspapers Digital, to coordinate the editorial function. One of the things that David does is crowdsource all the editorial best practices and work them into our CMS and product developments so that we can actually take advantage of tools like NewsWhip.
The running game is to keep offering more things, more engagement, have a relationship with the users in the market. The passing game is that you made an investment in data and the tech around it to have superior business intelligence, so you have hard knowledge of that market. 
5) Speed to market 
Brett: Clearly Hearst is deeply rooted in the local community, but how do you compete for mindshare with the velocity of content and news consumption from the social networks?
Rob: You need to have a direct relationship with the consumer and become incredibly sophisticated in how you target and serve customers. You have to have something worth paying for. You have to go back and think, what are you offering consumers, why are they coming every day? And so, breaking news might be one function, and deeper analytical journalism another.
With that said, our strategy for off-platform (search and social networks) is two-fold. These global platforms are not going to spend the time creating local content themselves. So, we're using them for distribution. Mark Zuckerberg is focused on building these communities and they are increasing the quality and relevancy of their offerings like Facebook groups and Messenger, and those are platforms that we're spending time on and publishing content for.
(ed: Both SF Chronicle and SF Gate are experimenting with digestible social video on the platforms)
Additionally, our editors and producers use all of the available tools to leverage social for insights — which enables them to be scrappy and ensures we don't get scooped.
They've done it through judicious use of social media tools, but even more than that, through topic selection and reporting, based on a really good grasp of what's interesting to people. That can be in part determined by looking at what's currently on social networks and all these other straight-forward things that [NewsWhip] thinks about all day. They are now power users of tools and data.
Often the digital staff will jump on a story that's starting to gain some currency on the packets of the social spheres and they'll get it written and packaged up faster than anybody. Speed to market plays a major part.
A lot of the traffic is driven by that instinct, and the instinct is driven by experience and understanding the trends
---
About the Author:
Brett Lofgren is the President and Chief Revenue Officer at NewsWhip. Brett directs overall growth and revenue strategy, helping brands and publishers use NewsWhip technology to grow their audience through social data.
Email Brett via This email address is being protected from spambots. You need JavaScript enabled to view it..
The original article was published here http://bit.ly/2yy32RW