Additional Industrial Inkjet technology from IIJ keeps it one step ahead of competition.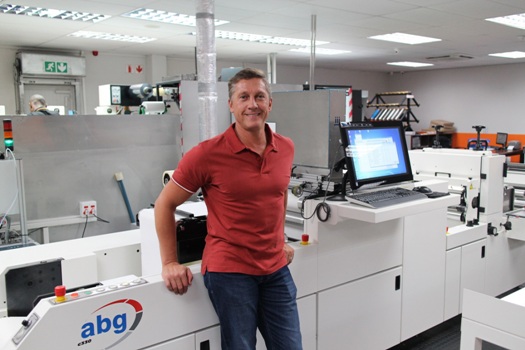 Dudley Cherry with one of the new systems in South Africa
Traderplus, which specialises in delivering solutions for label and swing ticket printing, has continued to keep one step ahead of the competition, by installing state –of-the-art technology from UK based of Industrial Inkjet Ltd (IIJ).
Hailed as a 'print giant' in South Africa, Traderplus has worldwide contracts to print more than 750 million swing tickets a year and counts global retail outlets such as Walmart amongst its customers.
IIJ, which launched into Africa last year, has, in the words of Dudley Cherry – Joint CEO – provided a huge "step up" for Traderplus at its two manufacturing sites at both its Durban headquarters in South Africa and in Suzhou, China.
Following the initial success of these initial IIJ print solutions, Traderplus has now decided to add to this portfolio with two more lines, with inkjet printing provided by IIJ. These are due for installation in July of this year.
The total investment is around £2 million and includes both IIJ MonoPrint and IIJ ColourPrint engines which Traderplus describes as "a very customisable solution". The IIJ systems are fitted onto bases supplied by converting specialists AB Graphic International. ABG is a major player in the narrow web industry, with over twenty years' experience of digital converting and also provides comprehensive technical and after sales support.
Dudley Cherry, CEO of Traderplus, said:
"IIJ's highly flexible, and customised solution is providing us with full variable data printing in both mono and CMYK (colour). We wanted a big step up and the solution from IIJ is the most suitable by far from an inkjet perspective and is putting daylight between us and our competitors.

"We are more than delighted as this has enabled us to grow our business significantly by going into new markets. In the past month, we have started live printing for two new clients in Australia: Typo and Best and Less. We couldn't have picked up these extremely significant new business opportunities without first having the IIJ technology. We had the exact solution that our customers were looking for and it has been the perfect fit for our requirements. This has revolutionised our business."
He added:
"IIJ has provided us with cost effective systems and valuable on-going advisory and technical support services that are second to none."
Prior to live printing, IIJ undertook exhaustive testing with Traderplus in the UK, China and South Africa in conjunction with AB Graphic International headquarters in Bridlington, UK, to ensure it could deliver the smoothest start possible.
Central to the deal has been Pieter Le Grange, Managing Director of Nipson and Inkjet Technology Solutions South Africa who became a strategic partner of IIJ in 2015. Le Grange represents IIJ's interests in Africa and South Africa.
John Corrall, founder and Managing Director of IIJ which is based in Swavesey near Cambridge, UK and has a global client base, commented:
"Traderplus is a company that thinks 'outside the box', as does IIJ. We have been proud to help develop a unique industrial inkjet solution that will help its business grow significantly both in China and South Africa. We look forward to witnessing their future growth."

"Traderplus is another perfect example of how our bespoke industrial inkjet systems are proving ever-more popular at an increasing number of companies around the world."
http://www.traderplus.co.za/index.php 
You can Tweet, Like us on Facebook, Share, Google+, Pinit, print and email from the top of this article.
Copyright © 2016, DPNLIVE – All Rights Reserved.