Investment made to print its own labels and packaging.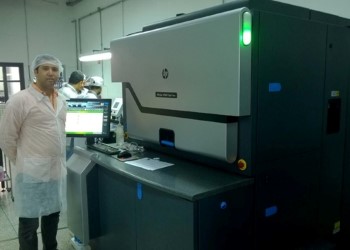 Hamza El Baroudi, Development Director, SITI Tea, with the new HP Indigo WS6800 Digital PressMorocco-based SITI Tea (Société Impériale des Thés et Infusions), a provider of customized tea packing services, has added labels and packaging printing to its in-house offering, with the installation of two HP Indigo Digital Presses within two years.
The company purchased its first HP Indigo WS6600 Digital Press in 2013 and has now recently added an HP Indigo WS6800 to its portfolio. This latest investment was made to enable the company to further expand its print offering. With the purchases marking SITI Tea's first venture into printing, it has swiftly embraced HP Indigo technology, keen to explore the new opportunities available. SITI tea has already become the first company to print digitally on oxo-biodegradable plastic – for which HP recently announced their support – after a customer requested a green packaging solution just a few months into SITI Tea's digital printing experience.
With over 30 years' experience in packaging tea and plants in handcrafted tea bags, SITI Tea provides customers in North America, Europe, the Middle East and Africa with full-service, custom tea packing services. Until the first HP machine was installed the company had traditionally relied on offset and flexo printers and converters for its labels and packaging needs. However, as customers increasingly requested small print quantities, it began to look for alternative solutions. As Hamza El Baroudi, Development Director, SITI Tea, explains, HP Indigo's digital printing technology became its choice, allowing the company to facilitate shorter print runs whilst also maintaining the high quality and reasonable pricing that customers had come to expect.
"HP Indigo digital printing enables SITI Tea to cost-effectively deliver the high quality that our customers need, with a fast turnaround, whilst gaining business flexibility and control," said El Baroudi. "With two HP Indigo Digital Presses, we are able to combine our customers' ideas with our expertise, with almost no limitations. We are extremely excited about the capabilities that HP Indigo technology can bring to our business, and we look forward to further expanding our capacity in the future with additional digital presses from HP."
Currently, SITI Tea's WS6600 and WS6800 Digital Presses are routinely used for orders of up to 300,000 teabags, with print runs up to 30,500 m (100,000 ft) in length. Printing across two, and occasionally three shifts, the two presses now print 8-10 per cent of the labels and packaging for SITI Tea's products.
http://www.hp.com.
You can Tweet, Like us on Facebook, Share, Google+, Pinit, print and email from the top of this article.
Copyright © 2015, DPNLIVE – All Rights Reserved.