Dublin-based singer-songwriter wins top prize in competition run by Microsoft and MUZU TV to find Ireland's best unsigned act
---
Singer-songwriter Carol Keogh has won Unsigned and Online, a competition to promote independent Irish music. Unsigned and Online is a collaboration between Microsoft and MUZU TV, in association with IMRO (Irish Music Rights Organisation), designed to encourage and challenge unsigned musicians to use a variety of Microsoft products and digital media to promote their band. The competition ran for ten weeks and saw bands and artists from around the country vie for the number one spot. The artists' videos were viewed nearly 100,000 times.
---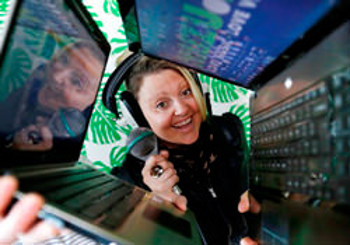 Carol KeoghCarol, a Dublin-based singer walked away with a prize worth over €10,000 for her song, 'Into the Blue'. The prize consists of a digital marketing campaign across Microsoft platforms, including Windows Live and MSN, an acoustic session in MUZU TV's studio and a slot on stage at an upcoming gig at Dublin's The Academy.
Carol's song had to beat off some stiff competition from second-placed Policy with 'Suggestion Box' and The Last Crash with 'Melt Me' who finished third.
Carol has been working the music scene for a number of years, writing, performing and recording with various bands, such as The Plague Monkeys and The Tycho Brahe. Since 2008 she has been performing as a solo artist and is currently demoing tracks with her backing band, The City Fathers, for her forthcoming debut album, which will be called 'Mongrel City'.
Making the announcement, Orla Sheridan, consumer channels group manager at Microsoft, said: "We are thrilled for Carol. 'Into the Blue' is a really great song. Carol has shown a real determination throughout her music career and the win will give her added exposure to help with her continued success."
She added: "We know that there are countless bands and musicians around Ireland using digital and social media as a tool to gain and maintain their fan base. The power of online has been shown time and again as unsigned acts try to exploit its full potential by sharing their music."
Ciaran Bollard, CEO at MUZU TV said: "Unsigned and Online is a great example of what can be achieved by harnessing the power of the internet and technology to record music and create music videos at a fraction of what it used to cost artists. This is a chance for Irish artists to gain nationwide and international exposure."
Carol has previously released two albums with The Plague Monkeys and, while performing with The Tycho Brahe, she was nominated for Best Female Singer at the 2002 Meteor Awards. The band was also nominated that year for Best Irish Band.
Carol said after winning Unsigned and Online: "It's great to have won the competition, which was based on votes from the public, and the timing couldn't be better. Digital and social media are the bedrock for unsigned musicians as it allows us to share our music with large groups of people. The exposure that I will get through the prize from Microsoft and MUZU will help greatly in getting my album finished and ready for release."
All of the tracks are still available to view on www.muzu.tv/unsignedandonline.
About MUZU.TV
MUZU.TV is a video site dedicated to music that is free to use as it is supported by premium advertising. MUZU.TV was launched in Ireland and the UK in 2008. Since 2011 it has extended its reach across all major European markets and is now streaming over 5m videos per month.
It has one of world's largest official catalogue of music videos (over 100,000), which includes content from all four major record labels as well as thousands of independent labels. Original copyright holders retain their ownership of any videos that are uploaded to the site and artists are granted 50 per cent of all advertising revenue.
MUZU is a multi-platform proposition in every major European territory working with Samsung, SONY Bravia and Xbox providing Apps for their internet enabled TVs and Consoles.
MUZU.TV hosts music videos on over 500 partner websites including Metacafe, NME, Daily Mail, Express Group (Daily Star, Express, OK), The Telegraph, Channel 4 (4Music), HMV, Kilimanjaro (RockNess, Sonisphere, Wakestock) and Mama Group (Mean Fiddler, High Voltage Festival, Great Escape Festival).
http://www.microsoft.com/presspass/contactpr.mspx
Copyright © 2012, DPNLIVE – All Rights Reserved