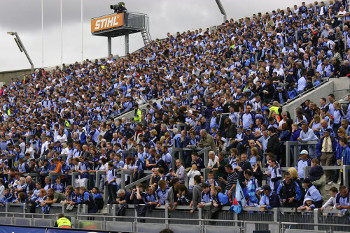 They may have just hit the jackpot in 2011 but Dublin's manager, Pat Gilroy, has already told his players that he wants to retain the All-Ireland in 2012. It's a feat that is rare. Only one team in each of the last three decades has achieved the distinction – Meath in 1988, Cork in 1990 and Kerry in 2007.
Gilroy knows Dublin won last year by a single point. To repeat that victory this year they will have to up the ante significantly to have any chance of success.
The new season really starts off for Dublin in the O'Byrne Cup this Sunday, January 8th, when they are away to Carlow. These fixtures are where the players have to catch the eye of Gilroy.
He doesn't believe in sacred cows and all the panel of 2011 realise they have to fight to keep their place this year.
Keep an eye out for one new and very talented player who will be pushing hard for a regular place on the 2012 Dublin championship squad, Sean Murray.
Last year he played the O'Byrne Cup and also in the league but never figured once in any part of the All-Ireland squad. He had a great run with his club, St Brigid's, during the same year so he will be pushing the more senior players for a place this year.
Copyright © 2011, DPNLIVE – All Rights Reserved