Newly launched technologies promise fast, accurate press-side correction of ink formulations, and affordable inline spectral measurement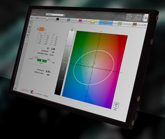 ColorTrack™ allows press operators to collect and process color measurements, and facilitates fast correction of ink formulations at the press.QuadTech announced on 23 August that they will bring two breakthrough color technologies to Labelexpo Americas 2016 (booth 3717), held September 13-15 at the Stephens Convention Center near Chicago's O'Hare International Airport.
Both new products were introduced at drupa 2016 in Düsseldorf, Germany in early June. Live demonstrations of QuadTech's ColorTrack are scheduled for 9:30 a.m., 11:00 a.m., 1:00 p.m., 2:30 p.m., and 4:00 p.m. daily.
QuadTech president Karl Fritchen comments,
"The live demonstrations at drupa were virtually 'standing room only' events every day. ColorTrack and DeltaCam both generated high interest in Europe, and we are eager to debut these solutions in the Americas."
ColorTrack
ColorTrack is a unique, highly adaptive new color management software solution for packaging applications. Without any hardware modifications to the press, QuadTech's ColorTrack software seamlessly integrates with ink formulation software to not only simplify workflow, but also dramatically reduce the number of ink corrections needed to achieve accurate, optimal color.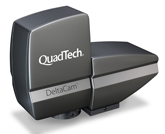 QuadTech's DeltaCam provides accurate inline spectral measurements, reducing waste and ensuring all printed products are within your customers' color specifications.Stephan Doppelhammer is the QuadTech Marketing Manager for Packaging.  He said
"Meeting the quality and consistency demands of brand owners has become increasingly difficult,.  QuadTech, in partnership with ColorConsulting, has developed a 'color expert in a box' that automates the process of delivering absolute consistency from press-to-press, shift-to-shift, and plant-to-plant."
With human color experts, three to five color corrections on startup are typical for a new job—or even six to eight for difficult colors. ColorTrack can achieve more accurate color in one or two corrections. ColorTrack is the only software solution that offers this level of press-side connection between color measurement and ink management.
DeltaCam
QuadTech's Color Measurement with DeltaCam makes advanced, inline spectral measurement affordable. For around the cost of a color register system, printers can utilize accurate, automated L*a*b* measurement on film, paper or board—ensuring that all printed product is within their customers' color specifications.
Printers can reduce time and waste while confidently maintaining color throughout the roll—without the need to wait for a roll change to measure with a handheld device. Operators can spot problems early and make corrections quickly, thus minimizing waste, customer complaints, and rebates.