Despatched by Ambassador Antalis.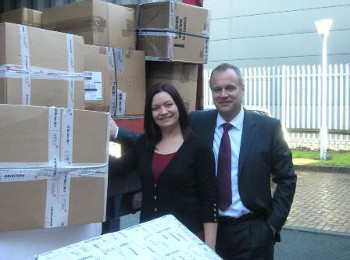 Kerry Foster, New Business & Product Development Manager, Antalis UK; Tim Percival, National Office Director, Antalis UKRepresentatives from Ambassador Antalis were on hand to despatch the final shipment of relief aid to the Philippines, to support victims of the devastation caused by super typhoon Haiyan. Ambassador Antalis became involved in the relief effort when the charity co-ordinating the aid needed packaging materials to produce packs of essential items such as clothes and basic food to support families for a up to a month.
Ambassador Antalis provided polythene sacks for bagging blankets, rolls of shrinkfilm, stretch film and packaging tape to the value of £10,000, while extra-large cartons were donated by Diamond Box and Sealed Air provided bundles of bubble wrap. The relief effort was co-ordinated by purchasing supplies company NEMO and the International Christian Fellowship Charity (ICF).
"We all hear about these disasters and see the pictures on the news, but it's all too easy to forget the impact that it has on the everyday lives of ordinary people," Says Kerry Foster, New Business & Product Development Manager for Ambassador Antalis Packaging. "So when we were presented with the opportunity to help families that have lost everything, we were very keen to get involved."
Press release issued on behalf of Antalis UK by AD Communications.
Follow us on Twitter - @DigiPrintNews
Like us on Facebook www.facebook.com/DPNLive - (click the 'LIKED' button/top of page as well)