KDM P.O.P. Solutions Group grows premium retail

graphics presence with high-speed EFI VUTEk presses.
---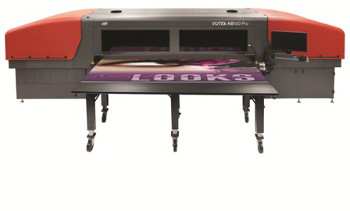 VUTEk HS100 ProEFI™ and US based KDM P.O.P. Solutions Group has confirmed that KDM is enhancing its premium retail point-of-purchase operations with two EFI VUTEk® HS100 Pro UV inkjet presses. The company, which has been in business since 1970, now employs over 300 employees across locations in Cincinnati, Nashville, Atlanta and Cleveland.
---
Dan Kimmerly, Graphics Director at KDM said, "We tested several new digital presses on the market, but all of our research led to the EFI VUTEk platform as the one that could best meet our present and future needs for streamlined digital printing productivity with the highest colour gamut of all the presses we tested."
"KDM has always been one of the most forward-thinking firms in point-of-purchase retail, and has really helped develop the market for UV inkjet in the high end of the market," added Frank Mallozzi, senior vice president, worldwide sales and marketing, EFI. "We know our HS100 Pro presses will deliver the most advanced technology available, giving market innovators like KDM the competitive advantage they are seeking."
The 3.2-metre (126-inch) wide VUTEk HS100 Pro utilises a LED/UV hybrid ink curing process that prints on a wider variety of roll and rigid media, designed to offer throughput speed comparable to screen printing, with print quality that approaches offset. The eight-colour press is marketed as providing superior quality and a broad colour gamut for point-of-purchase and other graphics applications. It features EFI's Pin & Cure imaging technology, which offers accurate ink lay-down, gloss control, and greater imaging accuracy.
Printing up to eight colours at speeds up to 100 boards per hour, the press also offers an opaque white ink and a unique, multilayer printing capability for better quality visual appeal on backlit displays and other applications. Additionally, true, variable-dot greyscale inkjet head technology on the press offers higher image quality and greatly improved spot colour matching.
"When it came to selecting a platform for the future, we saw that the VUTEk HS100 Pro could deliver a combination of quality and speed to market that will allow us to better serve our retail customers' need for short, medium and even long run digital printing," said KDM President Bob Kissel.
In addition to its extensive large format UV digital printing capabilities, KDM P.O.P. Solutions Group also has a line-up of printing technologies to meet nearly any printing need, including screen, large format UV offset, conventional offset, small format digital printing, flexographic and photographic imaging - across its four print production locations in the US.
For more information about EFI VUTEk printers, visit www.efi.com.
For more information about KDM P.O.P. Solutions Group visit www.kdmpop.com.
Follow us on Twitter - @DigiPrintNews
Like us on Facebook www.facebook.com/DPNLive - (click the 'LIKED' button/top of page as well)
Copyright © 2014, DPNLIVE – All Rights Reserved.