EFI Fiery Digital Front End Powers New,

High-performance Ricoh Production

Monochrome Printers.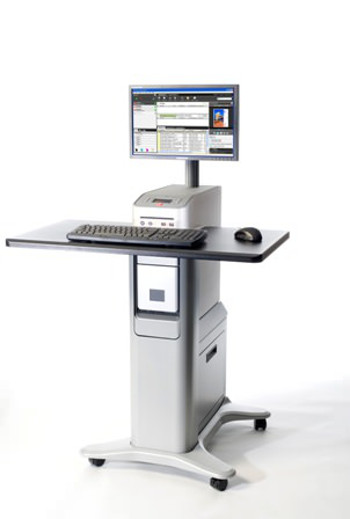 EFI ProSeries with standEFI™ has introduced a new EFI Fiery® digital front end (DFE) offering greater image detail as well as faster job set-up and management on new Ricoh Pro 8100s/8100EX /8110s/8120s black-and-white digital printers.
The new EFI Fiery EB-32 DFE is built on the latest Fiery FS100 Pro platform, which delivers advanced functionality with high-quality imaging, automated workflows and productivity-boosting tools.
Bringing Fiery productivity to black-and-white digital production
The new DFE also includes Fiery Grayscale Calibration, an innovative software feature that ensures consistent, high-quality reproduction by automatically measuring and correcting tonal variances on black-and-white images. Users who also use Fiery on colour digital presses can seamlessly connect the DFE with their existing print workflow.
"The EFI Fiery EB-32 brings the impressive functionality of Fiery to Ricoh's new black-and-white printers," said John Henze, vice president, Fiery marketing, EFI. "Plus, Ricoh customers in the in-plant CRD and commercial graphic arts spaces benefit from the 17 years of experience EFI has developing technologies that can consolidate their black-and-white and colour digital print operations into a single, more efficient Fiery Driven environment."
The Fiery EB-32 provides connectivity to third-party prepress workflow solutions such as Kodak PRINERGY and Agfa :Apogee to enable hybrid digital and offset workflows, a factor that makes Fiery DFEs the preferred choice for commercial printers looking to optimise their production efficiency. Plus, the DFE integrates with automated estimating, scheduling, job ticketing, accounting and other processes managed by EFI's suite of industry-leading management workflow and web-to-print products, including EFI's PrintSmith™ Vision, Pace™ and Digital StoreFront® software.
"The Ricoh Pro 8100s series currently offer customers exceptional image quality on a wide range of media, and is built to handle the requirements of production environments," said Tim Vellek, vice president, Production Printing Business Group, Ricoh Americas Corporation. "The addition of the Fiery EB-32 allows the series to seamlessly integrate into existing Fiery workflows, and provide access to the full range of Fiery print management capabilities, as well as Fiery options for document pagination and tab creation."
Best-in-class digital print workflow capabilities
A new pad-printing feature on the DFE allows operators to easily create a pad from a single-page job, insert a back cover/slip and print with minimal manual collation. And, Fiery Command WorkStation® software included with the DFE provides an intuitive user interface that simplifies job set up and reduces operator errors.
Users also have the option of adding Fiery JobMaster and Fiery Impose, software offerings that streamline complex tasks, giving users more power and flexibility in tab insertion and design, page-level ticketing, finishing, scanning and late-stage editing. Another optional feature on the DFE, Fiery ImageViewer for B&W, is a full-resolution preview tool that also improves imaging consistency by giving users the ability to manage black curve adjustments between multiple devices.
The Fiery EB-32 DFE is available now from Ricoh and authorised Ricoh resellers. For more information about EFI Fiery Driven™ products, visit www.efi.com
Press release from EFI
Follow us on Twitter - @DigiPrintNews
Like us on Facebook www.facebook.com/DPNLive - (click the 'LIKED' button/top of page as well)