B.M.W. Motorsport a Brief History
Written By Frazer McMenzie
(Bmw E30) Pictures By Daniel McMenzie
---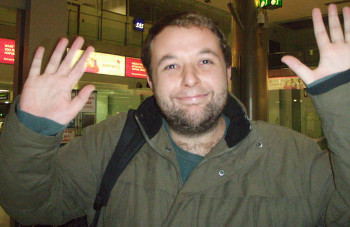 Frazer McMenzieBMW was established as a business manufacturing aircraft during World War One in 1917. At the end of the war it was forced to cease production of aircraft engines by the terms of the Versailles Armistice Treaty. The company consequently shifted to motorcycle production in 1923 and then moved into the production of Automobiles in 1928 as the Treaty lifted.
BMW M, also known as M-Technik or simply "M" for Motorsport was created to facilitate BMW's racing program, which had a great deal of successful cars during the 1960s and 1970s.
The M badge cars story all began in May of 1972 with 35 employees specialising in producing M cars to sell to the public. By 1988 the program was so successful that the number of employees had risen to 400. The M badge on a BMW means that that specific model in the range may not look to dissimilar from a business or family car but under the skin is a true wolf in sheep's clothing. All M badge cars have traditionally included modified engines, transmissions, suspensions, interior trims, aerodynamics, and exterior modifications, however subtle to set them apart from their counterparts. Every M model is tested and tuned at BMW's private facility at the Nürburgring racing circuit in Germany.
The first official M-badge car for sale to the public was the M1, revealed at the Paris Motor Show in 1978. The M1, however, was more of a race car in domestic trim than an everyday driver. The direction of the M cars changed with the 1979 release of the M535i, which was a high performance version of BMW's popular 5 Series saloon car.

Below is a list of the current BMW
M badge cars in production:
M3 - E90 Sedan, E92 Coupé, E93 Cabriolet (2008 to present)
M5 - F10 Saloon (2011 to present)
M6 - F12 Coupé, F13 Cabriolet (2012 to present)
X5 M - E70 SAV (2010 to present)
X6 M - E71 SAV (2010 to present)
Below is a table showing all previous models of M cars from 1978 until the end of their production run with a total of 17 different cars not to mention the 5 above models currently in production.
YEARS

MODEL

CAPACITY

OF ENGINE

NUMBER OF CYLINDERS

POWER (PS)

BHP

PRODUCTION TOTALS

1978-1981

M1

(E26)

3.5 Litre

Inline 6

277

456

1979

M535i

(E12)

3.5 Litre

Inline 6

219

1,862

1983-1989

M635 CSi (E24)

3.5 Litre

Inline 6

260-286

5,859

1985-1988

M5

(E28)

3.5 Litre

Inline 6

286

2,191

1986-1992

M3

(E30)

2.3 Litre

Inline 4

195

16,202

1988-1995

M5

(E34)

3.6 Litre or

3.8 Litre

Inline 6

315 or

340

32,587

1992-1999

M3

(E36)

3.0 Litre or

3.2 Litre

Inline 6

286 or

321

71,242

1998-2002

M Roadster

M Coupe

(E36)

3.2 Litre

Inline 6

321

Coupe: 6,318

Roadster: 15,375

1998-2003

M5

(E39)

5.0 Litre

V8

400

20,482

2001-2006

M3

(E46)

3.2 Litre or

4.0 Litre

Inline 6 or

V8

343 or

380

85,744

2005-2012

M5

(E60 &E61)

5.0 Litre

V10

507

20,547

2006-2008

M6

(E63 &E64)

5.0 Litre

V10

507

5,070

2006-2008

Z4 M

(E85 &86)

3.2 Litre

Inline 6

343

9,355

2007

M3

(E90/92/93)

4.0 Litre

V8

420

Not Available

2009

X5 M

(E70)

4.4 Litre

V8

555

Not Available

2009

X6 M

(E71)

4.4 Litre

V8

555

Not Available

2011-2012

1M Coupe

3.0

Inline 6

335

750 (Limited)
Since the origins of the M cars back in 1978 BMWs main rivals, Audi and Mercedes, were seeing the success of these cars coming out of Munich, and have been trying to compete with them ever since. Now don't get me wrong, I am sure that AMG Mercedes and Audis RS and S-line cars designed in skunk works with a very similar model of BMW M- Technik are great cars; but their problem is every time they release a new model it is immediately compared to the current BMW M3 or BMW M5. Mercedes have always gone down the high power road developing many big cars with brutally big engine producing unbelievable horsepower such as the 6.0L V12 Bi-Turbo in the SL65 AMG or the M156 6.2L V8 in the CL63 AMG. Audi on the other hand developed their S-Line and RS model from the platform of their Group B world rally championship success in the 1980s optimising acceleration using their Quattro for wheel drive systems to this day in current models such as the RS 4 and RS6.
In recent years BMW have more competitors than ever in the Motorsports market. Aside from Mercedes and Audi, Lexus have recently entered the equation with the IS-F along with many independent companies offering their own performance versions of BMW models. Such companies include Hamann Motorsport, Alpina, Dinan Cars, AC Schnitzer and Hartge. The fastest and most powerful BMW M conversions are made by German tuner G-Power; it holds several world speed records including the M5 Hurricane RR with 372.1 km/h (231.3 mph).
BMW M cars have always been held in high esteem for the most part by the motoring press and car enthusiasts alike. This is for several reasons, not least because they are first and foremost unquestionably brilliantly engineered and designed cars.
Another great selling point is the fact that not only can they be used on the road for day to day tasks such as the school run or shopping, but you can then take them to a track and mix it with supercars that you could never take to the supermarket or get over a speed bump in. It is the ultimate compromise of practicality and performance. All the new M badge cars have computers that can change the car set up in so many ways like adjusting the throttle response, power from the engine, ferocity of the gear changes and the list goes on. So you can have a calm well mannered family saloon one day then take it to a track, change a few settings, press the M button and scare yourself silly.
One of the great things about an M car is the styling. Admittedly any self respecting car or BMW enthusiast can spot an M car a mile off, or for that matter some IDIOT who has stuck an M badge on a BMW 316!! To the man in the street an M3 or an M5 just looks like a normal saloon car or compact. If you drove round in a bright red Ferrari or a Lamborghini in Sunburst Yellow you would be laughed at, ridiculed, despised by fellow motorists because your car cost more than their house subsequently never getting let out of a junction. That is why the BMW M series cars are a far more discreet option for those who wish to remain unnoticed by the masses but noticed by the connoisseurs.
Now I know people would say some M cars are a bit too technology orientated and the price is not that far off a two year old Ferrari, Lamborghini or even a new Porsche, however I would go with the M badge every time.
Copyright © 2012, DPNLIVE – All Rights Reserved