---
New York's Yankee Stadium, home to the New York Yankees baseball team is about to open its doors to soccer for the first time in a pre-season exhibition match between English Premier league club Chelsea and top French side Paris Saint-Germain (PSG) on July 22nd.
---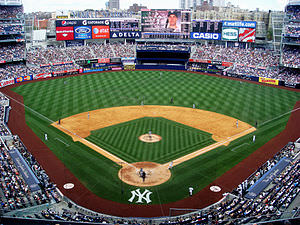 Yankee_StadiumThe stadium will be configured for 54,000 spectators in what will be Chelsea's first match in New York since 1954.
Chelsea chief executive Ron Gourlay said in a statement: "Chelsea Football Club is delighted to be heading to New York after such a long time away, and it will be a real pleasure to visit Yankee Stadium for what is sure to be a competitive game."
Chelsea's visit to Yankee Stadium will be the team's second in a four-city US tour which begins on July 18th against the Seattle Sounders at CenturyLink Field.
Soccer supporters in the States should enjoy this encounter since both teams are among Europe's elite; Chelsea is playing Bayern Munich on May 19th in the UEFA Champions League final, while PSG is three points behind Montpellier HSC for the top spot in France's premier Ligue 1.
The encounter at Yankee Stadium will also see former Chelsea and current PSG manager Carlo Ancelotti pitted against his old team for the first time since being fired last May. Although Ancelotti had success with Chelsea by leading them to a Premier League title in 2010, he was let go after a poor 2010-11 season.
Gourlay added that PSG would represent a serious test for Chelsea as the team prepared for the new season.
"It should be a fantastic game," he said.
Copyright © 2012, DPNLIVE – All Rights Reserved