EFI Brings Fiery Value to New Xerox Color C60/C70 Printer.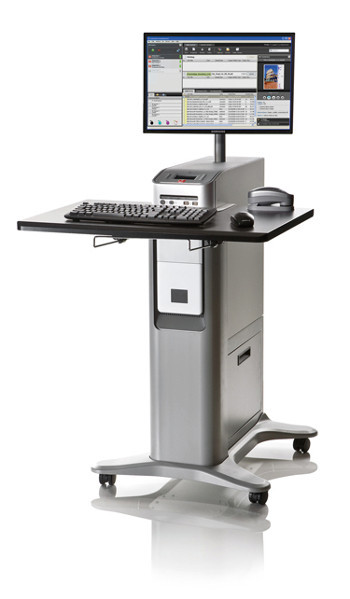 Fiery S9R2 QX100EFI™ has announced that EFI Fiery® digital front ends (DFE) are available for the new Xerox Color C60/C70 Printer. Both companies have collaborated to deliver the customised Xerox EX-i C60/C70 Print Server powered by Fiery and the Xerox EX C60/C70 Print Server powered by Fiery to drive these light production digital presses.
 "The new Fiery servers allow in-plant and light production printers to meet the most demanding standards for image quality and colour accuracy," said Terry Antinora, vice president, Xerox Mid Products Business Unit Office and Solutions Business Group. "The built-in Fiery job automation capabilities, plus the seamless integration to EFI MIS and Web-to-Print products, offer a unique opportunity for businesses to improve their productivity and profitability."
The new Fiery DFEs incorporate the image processing technologies that made EFI Fiery the only DFE to earn a 100 per cent perfect pass label from the VIGC PDF RIP Audit. EFI added that they also build on that foundation of image-processing quality with the Fiery FS150/FS150 Pro platform's remarkable speed, power and accuracy for value-driven, high-quality graphic arts environments.
The new Xerox EX-i C60/C70 Print Server are now being billed as offering world-class Fiery workflow features, giving users exceptional colour quality at a more-affordable cost. More demanding production printing environments can use the Xerox EX C60/C70 Print Server, which delivers 83 per cent more processing power.
"The new Fiery servers utilise our latest platform, FS150 Pro, giving Xerox customers the ability to offer unsurpassed image quality and establish easier to use, automated workflows," said John Henze, vice president, Fiery marketing, EFI.
EFI said Fiery is known for its many industry-leading capabilities, which are available in the Xerox-branded servers powered by Fiery for the Xerox Color C60/C70 Printer. These include:
Certification to industry standards with IDEAlliance Digital Print Certification and FOGRA Certification, ensuring users meet or exceed established industry specifications for excellence in colorimetric accuracy, uniformity, repeatability, durability and registration.
Integration with enterprise systems such as Xerox Standard Accounting and Xerox Extensible Interface Program for third-party-developed applications.
Increased productivity across all Fiery-enabled printing devices using the latest version of Command WorkStation®, the powerful, intuitive job management interface that lets users manage all Fiery Driven™ printers locally or remotely from a single user interface.
Simplified layout and make-ready with Fiery Impose for intuitive, visual document imposition and automated handling of common layouts, with preparation functions in one easy-to-use interface.
More demanding production printing environments will benefit from the 83 per cent higher processing power of the Xerox EX C60/C70 Print Server, EFI also confirmed. In addition, it offers:
Streamlined end-to-end workflows, using seamless integration with EFI MIS/ERP and eCommerce and web-to-print software to move job information through production systems faster and more efficiently. In addition, the Xerox EX C60/C70 Print Server integrates with solutions such as Xerox FreeFlow® Digital Workflow Collection and Xerox FreeFlow Core as well as other popular prepress workflows including KODAK PRINERGY, Agfa Apogee and Heidelberg Prinect.
Best-in-class colour and imaging, including, automated image enhancement and optional software such as the Fiery Graphic Arts Package, Premium Edition, and Fiery Color Profiler Suite.
The Xerox EX-i and EX C60/C70 Print Servers also offer a number of benefits for office users, including a number of free features: mobile, Wi-Fi and cloud printing; Fiery VUE, a 3D visual print application that guides users through an interactive workflow to create professional materials; and Fiery FreeForm™ for in-house production of personalised communications.
The new servers are available to order now from Xerox and authorised Xerox resellers. For more information about Fiery Driven digital print technologies, visit www.efi.com
You can Tweet, Like us on Facebook, Share, Google+, Pinit, print and email from the top of this article.