Companies plan to develop high-volume inkjet solutions in corrugated packaging and beyond.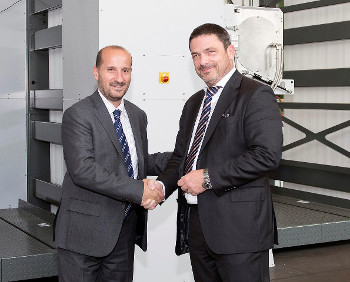 Aurelio Maruggi, Vice President and General Manager, Inkjet High-speed Production Solutions Division, HP and Christoph Müller, executive vice president, Web Press Business Unit, KBAIt was announced at Graph Expo 2014 that HP had teamed up with Koenig & Bauer Group (KBA) to develop new roll-to-roll inkjet solutions for the high-volume corrugated packaging market. The co-developed solutions will be marketed under the HP brand with the intension of helping packaging converters increase productivity, scalability and versatility.
The estimated value of the corrugated packaging printing industry is $2.5 billion and steadily increasing worldwide due to brand globalisation, population growth and a resurging economy. Alongside this, trends such as stock keeping unit (SKU) proliferation, micro-segmentation and shorter product lifecycles are continuing to drive demand for shorter run lengths enabled by digital print.
It's accepted that to address the huge digital opportunity in the corrugated market will require the best technology innovation, portfolio scale and market leadership. "HP brings this unique combination as well as proven customer success and upgradability to this challenge, and together with KBA, HP can bring even greater value to high-end converters," said Aurelio Maruggi, vice president and general manager, Inkjet High-speed Production Solutions, HP.
To help corrugated converters and print service providers (PSPs) take advantage of these trends, HP and KBA intend to deliver high-speed roll-to-roll thermal inkjet solutions that provide value chain cost savings while meeting brands' rigorous quality and volume requirements.
"KBA has a rich heritage of developing innovative solutions that meet or exceed customers' quality expectations," added Christoph Müller, executive vice president, Web Press Business Unit, KBA. "In working with HP, we will combine our complementary technological strengths to meet the needs of packaging converters."
HP announced its intent to enter the corrugated packaging segment this year with its inkjet web press technology, followed by its first offering, the HP High-speed Inkjet Corrugated Packaging Solution, and the solution's first customer installation at Obaly Morava, a.s. The agreement with KBA is designed to demonstrate HP's continued pursuit of corrugated packaging opportunities and intention to broaden its portfolio of inkjet products and solutions.
KBA is the second-largest press manufacturer worldwide and brings to the joint initiative its strengths in paper handling, manufacturing scale and wide knowledge of the packaging market. As HP celebrates its 75th anniversary and its 30th year of inkjet innovation, the collaboration will benefit from its inkjet and IT development skills as well as unmatched digital press go-to-market capabilities.
More information about HP Inkjet Web Press solutions is available at www.hp.com/go/inkjetwebpress. Product videos and updates are available on Facebook at www.facebook.com/HPdesigners, on Twitter at www.twitter.com/hpgraphicarts and on YouTube at www.youtube.com/hpgraphicarts.
You can Tweet, Like us on Facebook, Share, Google+, Pinit, print and email from the top of this article.
Copyright © 2014, DPNLIVE – All Rights Reserved.