Company launches new CJV300 series flagship printer/cutter.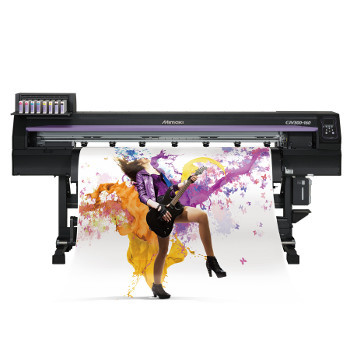 Mimaki launched its new CJV300 flagship printer cutter at Viscom this month.Mimaki has launched the CJV300 series - its new print & cut flagship, with the machines first European debut held at Viscom Paris 2014 which opened on 9th September. This was the first in a series of product unveilings which are planned for various exhibitions throughout the autumn.
---
The CJV300 is an integrated print and cut machine, available in 1.3 and 1.6m widths, delivering simultaneous printing and cutting operations at print speeds of up to 105.9 m2/h. Its two newly developed staggered print-heads deliver high-resolution printing whilst continuous registration mark detection enables the uninterrupted cutting of an entire roll of media. Additionally, the registration marks produced on the CJV300 are deemed zero-margin, reducing costly media consumption.
"The high speed of the new Mimaki CJV300 is going to set a precedent for integrated printer/cutters," explained John de la Roche, national sales manager – sign & graphics for Mimaki's UK and Irish distributor, Hybrid Services. "It's an exciting time for Mimaki customers and the CJV300 will give the ultimate print and cut solution for producing items such as stickers and labels."
Coinciding with the launch of the CJV300 is news of the availability of the SS21 silver ink, as Mike Horsten, General Manager Marketing EMEA for Mimaki Europe explained; "2014 has been a big year for new products at Mimaki, but the year is not over yet, as visitors to our stand at Viscom were able to see. We are especially excited to be offering a new silver ink along with a brand-new printer to bring high value-added printing to manufacturers in the sticker, labelling, and packaging print industries. This complements the SS21 Orange and Light Black inks introduced earlier this year and makes it possible for users to create metallic images in no less than 648 different colours with a silver underlay."
Mimaki claim that the SS21 silver ink brightness is 1.67 times greater than that of conventional silver inks, created for stunning mirror effect results. Compatible with all printers using SS21 inks, the new solvent silver ink has been developed to give print companies the opportunity to greatly add value to their output and print dazzling finishes.
In addition to the new product presentations at Viscom, Mimaki has heralded two further additions to the Mimaki sign & graphics family being showcased at Viscom Italy in October; the Mimaki JV150 inkjet printer and its integrated counterpart, the CJV150. With print speeds of up to 56.2 m2/h, the Mimaki CJV150 and JV150 will be available commercially in spring 2015 as entry-level options with high print quality and reliability associated with all Mimaki products.
Mimaki is exclusively distributed in the UK and Ireland by Hybrid Services Ltd and further details about Mimaki and its expansive product portfolio can be found at www.hybridservices.co.uk.
Follow us on Twitter - @DigiPrintNews
Like us on Facebook www.facebook.com/DPNLive - (click the 'LIKED' button/top of page as well)
Copyright © 2014, DPNLIVE – All Rights Reserved.