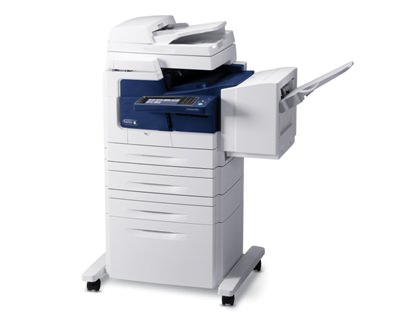 Xerox 8900 with traysWith small businesses struggling to cut costs and stay productive, the Xerox range of new A4 colour multifunction printers (MFPs) may offer solace. The firm says these printers could help turn challenges into opportunities by making it affordable to create colourful documents while managing office functions ranging from printing to scanning with ease.
Compact enough to suit any office environment, including a desk, the Xerox ColorQube® 8700/8900 Colour Multifunction Printers use solid ink technology – a cartridge-free, crayon-like ink stick – to produce quality prints such as reports, newsletters and presentations on a range of media, including recycled paper.
An interesting feature of the new MFPs is that cost-savings are possible with Hybrid Colour Pricing Plans, allowing businesses to pay only for the amount of colour on a given page. Xerox maintains that this is an important differentiation when using just a little bit of colour, such as a company logo or letterhead.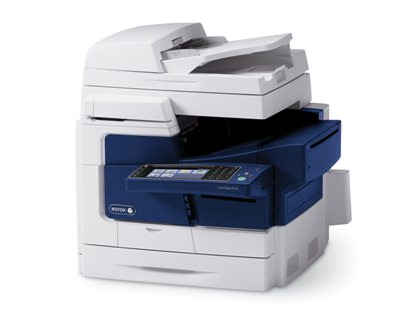 Xerox-ColorQube 8700ColorQube 8700/8900 includes new features such as:
Energy-saving methods like Intelligent Ready which switches to low-power mode during downtimes. Xerox says that compared to laser MFPs in the same class, the ColorQube 8700/8900 MFPs produce up to 90 per cent less printing waste and use 17 per cent less life cycle energy.
A 7-inch colour touch screen makes it easy to program jobs, including printing, scanning, distributing and organising documents.
Embedded security features, such as image overwrite and encryption, aim to protect the documents, hard drive and network from vulnerabilities.
"Xerox's ColorQube MFPs provide hassle free, fast, quality colour printing – a simple and affordable approach to getting real work done" said Pat Johnson, product marketing manager, Xerox UK and Ireland.
ColorQube 8700/8900 Support Xerox's Managed Print Services
The MFPs are offered as part of Xerox's managed print services (MPS), which help companies control print spend.
Availability
The ColorQube 8700/8900 MFPs are available immediately through Xerox's direct sales force, resellers, concessionaires and distributors.
For more information, visit http://www.xerox.com, http://news.xerox.com or http://www.realbusiness.com.
Copyright © 2012, DPNLIVE – All Rights Reserved