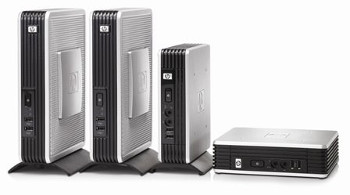 HP thin clientsThe new HP t610 and HP t510 Flexible Series Thin Client has what the company terms "industry-leading performance and security". Both include dual core processors and enable high definition (HD) graphics.
For those unfamiliar with the terminology, a thin client (sometimes also called a lean or slim client) is a computer or a computer program which depends heavily on some other computer (its server) to fulfil its traditional computational roles. In essence it is a network computer without a hard disk drive unlike the traditional fat client which incorporates one and is a computer designed to take on these roles itself.
Thin clients are ideal for business settings where employees access remote applications and virtual desktops. The new HP thin clients offer users access to shared applications and data on servers, which they maintain greatly reduces operational costs and also delivers increasing data security.
The t610 and t510 are part of HP's flexible series and allow the use of multiple monitors and remote connections and offer increased multimedia performance and connectivity alternatives.
HP says the t610 is the industry's first thin client to offer a BIOS (basic input/output system) that complies with the security recommendations of the National Institute of Standards and Technology (NIST), providing hard identification security for sensitive computing environments and giving businesses a second layer of protection for company data.
It is also the first thin client to offer an on-board Trusted Platform Module, which is an integrated cryptographic security chip that ensures only authorised access to networks under the certification requirements of the Trusted Computing Group.
The HP t610 offers a dual-core AMD G-series Fusion processor, which at 1.65Ghz makes it one of the fastest dual core CPUs in it class. It also offers AMD high-definition (HD) graphics and is passively cooled to help companies reduce noise in office environments and eliminate moving parts in their end-point devices.
The AMD Fusion Accelerated Processing Unit (APU) combines a low-power CPU and a discrete-level GPU into a single integrated unit providing high performance multimedia content delivery at power efficiency. Supporting DirectX11 for 3D visual effects and accelerated graphics performance, HP t610 has additional boost capability enabled by AMD Turbo Core technology without additional power draw.
An interesting feature to enhance reliability in a broad range of operating environments, the HP t610 includes HP active thermal management. Simply put thermal management prevents the device from shutting down due to over-heating even in very challenging environments.
The HP t610 comes with two chassis configurations – Standard and PLUS – which offer additional legacy ports, quad-head display graphics capabilities and connectivity options supporting fibre network interface cards and 802.11 a/b/g/n wireless support with dual antenna for enhanced connectivity.
It works with popular thin client management and OS software including Microsoft Windows® Embedded Standard 7, Windows Embedded Standard 2009 and HP ThinPro thin-client enhanced Linux. Configurations are also available that utilise HP Smart Client Technology for zero-touch management – an HP exclusive capability in this class of flexible and higher performing thin clients.
The second model, the HP t510, also features a high performing processor in its class and can support up to two digital displays. It comes with a VIA Eden X2 U4200 1GHz dual core CPU, offering very high levels of local compute performance for this class and better performance in remote sessions. VIA ChromotionHD 2.0 graphics enable hardware acceleration of streaming multimedia for better Web browsing and remote session multimedia experiences.
Both the HP t510 and HP t610 offer a true, PC-like experience for virtualised desktop environments. The two platforms double the minimum amount of RAM that ships on HP thin clients from 1 gigabyte (GB) to 2GB.
"With these new, flexible thin clients, businesses can protect their data more effectively, and they get an exceptional user experience with better graphics and video performance to meet the demands of segments such as financial, healthcare, public sector, retail and healthcare," said Kobi Elbaz, director, commercial solutions, HP Personal Systems Group EMEA (Europe, Middle East and Africa). "We also made sure the t610 and t510 are easy to integrate and manage with a broad set of management tools."
With HP Easy Tools the HP t610 and HP t510 are easily configured and include HP's enhanced, enterprise-class remote management software -HP Device Manager.
Both the HP t510an HPt610 easily allow administrators to simplify deployments and manage thin clients with MS System Centre Configuration Manager. With the newly released HP Imaging Plug-In for Microsoft Windows Embedded Device Manager 2011, customers can easily image HP's WES7 based thin clients.
Both thin clients are also optimised for compatibility with top virtualisation software, including Citrix XenApp and XenDesktop, Microsoft RDP 7 and VMware View.
Pricing and availability
The HP t610 and t520 Flexible Series Thin Client should be available in May in Europe, Middle East and Africa.
Copyright © 2011, DPNLIVE – All Rights Reserved