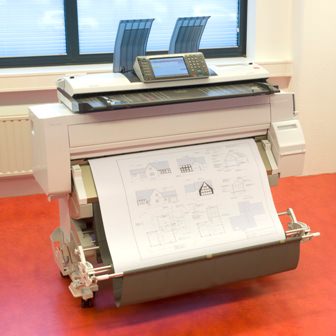 Ricoh Aficio CW 2200SPThe new Ricoh Aficio™ MP CW2200SP features the firm's Liquid Gel™ ink and targets a variety of industries, including manufacturing, architecture, engineering, construction, planning authorities and product design. Ricoh says its new four-colour wide format printer specifically for the CAD market will also meet the demands of the print room and quick print markets. Due to the ink's quick drying properties, the system provides high productivity, minimises blurring and produces excellent line accuracy. It will be available this autumn.
Traditionally the CAD market has been served by black and white devices. Now a shift is evident towards on-demand premium quality, colour prints. Typical examples are architects who need colour to make their drawings easier to read by highlighting areas such as electrical details in red or water infrastructure in blue. With the MP CW2200SP Ricoh claims they can also quickly produce drawings and other documentation onsite, whenever required, giving them an immediacy which makes it easier to update and produce new revisions quickly. The company says this should help to reduce the risk of costly errors occurring due to outdated documentation.
The MP CW2200SP boasts an in-built colour scanner allowing customers to digitise hand-drawn documents and archive older ones.
Environmental impacts are minimised, according to Ricoh, with a 40-second warm-up time with the new printer using as little as 10 per cent of the power that other printers in its class consume. The MP CW2200SP has an intuitive interface and runs at print speeds of up to 1.8 A0/min (b/w) and 0.6 A0/min colour. For added convenience it also features a USB port, where documents can be saved, stored and accessed without the need for a computer.
The new printer can handle a maximum print width of 914mm for prints larger than the A0 size and a suction-fed paper handling feature ensures that the paper is loaded more easily. It can also hold a 20-sheet stack as standard and a second roll for efficient feeding of substrates.
The MP CW2200SP is one of the live Ricoh demonstrations at drupa 2012, Dusseldorf, Germany in Hall 8a, May 3rd-16th May.
Visit www.ricoh-europe.com for news and updates.
Copyright © 2012, DPNLIVE – All Rights Reserved