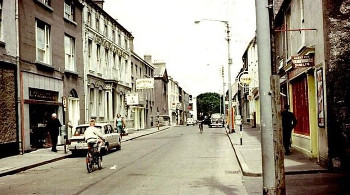 Dublin Street Scene 1968In 1968 I really got into the band scene. My Saturday afternoons were spent with my bandmates, practicing in my friend's garage. . We were doing really simple stuff but as the saying goes, "practice makes perfect". We wrote one or two of our own tunes. There were girlfriends on the scene as well, just to make the entire experience what we perceived to be true "Rock & Roll"!
What would you do if I sang out of tune?
Would you stand up and walk out on me?
The gigs we so desperately coveted eventually became a fact of life. The one in the local school hall was a massive eye-opener for me.  I realized being on stage was damn lonely, having to remember all those words and not make any mistakes a challenge. Practice, practice and more practice became my watch word, always aspiring for the perfect performance.
At 15 years of age, this was the year that the outside world really imploded on me for the first time. It was the 4th of April and I had heard on the news that the American civil rights leader, Dr Martin Luther King, had been assassinated in the US city of Memphis.
"I have a dream that one day this nation will rise up and live out the true meaning of its creed: "We hold these truths to be self-evident, that all men are created equal."
Across the boarder in Northern Ireland momentous events were occurring with the first Civil Rights March in Derry on the 5th October 1968.When television pictures of RUC officers baton-charging the demonstration in Derry were shown around the world, the Northern Ireland civil rights movement became international news.
Some writers now say that this act of defiance was one of the cornerstone events which led to start of the 'Troubles'. Even with all this turmoil going on, Dublin as a city didn't stop. It was moving forward and nothing was going to stop its progress.
Lady Madonna, children at your feet
Wonder how you manage to make ends meet
Dublin City Housing was becoming a big topic. During a Q&A session in Dáil Éireann (Irish Parliament) on the 07 May, 1968, the Minister for Local Government, Mr. Boland, confirmed the following information: "I understand from Dublin Corp. that work is expected to be completed on 699 of their houses and 1,407 of their flats in the current calendar year." He said.
When asked about the number of dwellings provided in the past three years in Dublin city and county by (a) Dublin Corporation, (b) the National Building Agency, (c) private builders and (d) any other bodies Boland confirmed the following figures.
"The number of dwellings provided in the last three financial years was as follows:—
1965-66: 11,255, comprising 8,266 non-local authority and 2,989 local authority dwellings;
1966-67: 10,984, comprising 6,905 non-local authority and 4,079 local authority dwellings; and
1967-68: 12,017, comprising 7,972 non-local authority and 4,045 local authority dwellings."
There was uproar in the Dáil chamber when certain TD's (MP/elected representative) stressed that prior to these years less than 4,000 dwellings were built for the previous five years.
So investment in houses both private and local authority was now starting to develop and with that came the obvious development of green field sites and the inevitable expansion of Dublin as a city.
Nightlife was also starting to develop but again that's for next week.
Open up your eyes
Then you'll realize
Here I stand with my
Everlasting love
Number One Songs 1968
Georgie Fame - The Ballad Of Bonnie & Clyde
Love Affair - Everlasting Love
Manfred Mann - The Mighty Quinn
Esther and Abi Ofarim - Cinderella Rockefella
Dave Dee, Dozy, Beaky, Mick and Tich - Legend of Xanadu
The Beatles - Lady Madonna
Cliff Richard - Congratulations
Louis Armstrong - What A Wonderful World / Cabaret
Union Gap featuring Gary Puckett - Young Girl
Rolling Stones - Jumpin' Jack Flash
Equals - Baby Come Back
Des O'Connor - I Pretend
Tommy James and The Shondells - Mony Mony
Crazy World of Arthur Brown - Fire
Tommy James and The Shondells - Mony Mony
Beach Boys - Do It Again
Bee Gees - I've Gotta Get A Message To You
Beatles - Hey Jude
Mary Hopkin - Those Were The Days
Joe Cocker - With A Little Help From My Friends
Hugo Montenegro Orchestra - The Good The Bad And The Ugly
Scaffold - Lily The Pink
1969  Marmalade - Ob-La-Di Ob-La-Da
For us, the five brothers O'Driscoll, none of this mattered. For us the "beat" went on.  As Dublin changed, so did I. Girls and rock & roll were all that mattered. Next week I continue on my journey through the sixties.  Stay with me! It's a long road but a good one!
Fast forward to March 2012! What's on!
RBS 6 Nations 2012 - Ireland v Scotland
10th March 2012 -Venue: Aviva Stadium
Website: www.irishrugby.ie
St. Patrick's Festival
16th March 2012 – 19th March 2012
Website: www.stpatricksfestival.ie
The Guinness Storehouse St. Patrick's Festival
Venue: Guinness Storehouse
16th March 2012 – 18th March 2012
Website: www.guinness-storehouse.com
All Ireland Club Championship Final
Venue: Croke Park Stadium
17th March 2012
Website: www.crokepark.ie
Dine in Dublin Restaurant Week
26th March 2012 – 1st April 2012
Website: www.dineindublin.ie
TALK TO ME!  What's happening in your world? Love to hear from you near and far.  I welcome your comments and email's. (This email address is being protected from spambots. You need JavaScript enabled to view it.)
Slán go fóill,
MOD