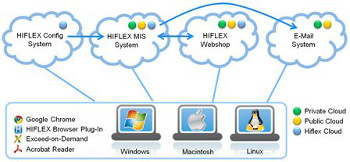 HIFLEX, an international software provider based in Aachen, Germany has announced that it is the first company to offer an MIS Cloud Computing solution for the graphic industry. The company specialises in developing sophisticated solutions for Commercial and technical process automation in the print and media industry.
HIFLEX Board member Stefan Reichhart commented:
"There is no doubt that Cloud Computing has fundamentally changed IT like no other development in the last decade," said Reichart. "It represents the new standard for all future technologies. The idea is to avoid the costs of maintaining software and hardware on your own and instead rent it from "the Cloud". One example of a huge success in Cloud Computing is Google Mail, where you no longer need your own mail server or software licenses, as with Microsoft Exchange Server. Google Mail offers mail services from the Cloud and is accessible from every computer on the internet."
As the global developer of MIS and Web2Print the HIFLEX Cloud Computing Enterprise Solution allows full access to its MIS via the internet – from anywhere and at any time.
So what's it all about?
With Cloud Computing users perform work via the internet. Instead of running on a dedicated server, applications now run on 'virtual machines' (VM) where several VMs can share the same hardware, implementation takes seconds and, if no longer needed, can disappear as fast as they appear.
Minimal Initial Investment!
"By using the Enterprise Cloud Computing solution from HIFLEX, companies lower operational costs by eliminating investments in IT infrastructure," Reichhart explained. "Instead users can concentrate on core business, reduce the costs of IT administration and eliminate the cost of obsolescence as hardware and software is outsourced. Up to now many small to mid-sized printers judged Enterprise MIS systems as too expensive because of the initial investment and high cost of implementation. With this new release, HILFLEX MIS now becomes available to SME printers who can now benefit from the most advanced technology in the industry without any reductions in functionality or performance. SME printers represent a huge global market which HIFLEX is poised to penetrate aggressively with its new Cloud based system."
Reichhart concludes:
"The strategy for HIFLEX was to offer its highly automated and powerful Print MIS Workflow as a Cloud Model making it also the most cost efficient system in the world. After three full years of development, the results have really paid off and are astounding. Included in the Cloud Computing release is high-speed internet accessibility, a change to OpenOffice.org and the elimination of MS Office for document generation as well as a browser-based configuration with a global system performance enhancement of over 25%."