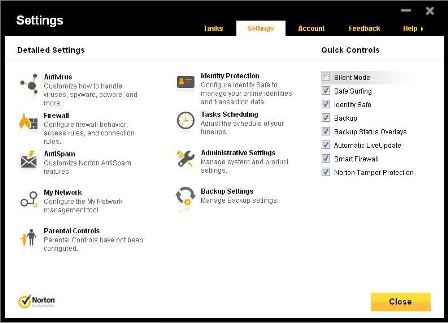 norton 369 version 6

Norton by Symantec has just released the public beta of version 6.0 of its award-winning all-in-one security suite Norton 360.  This beta is available for free download from the Norton beta website, and includes what Norton maintain is the powerful core security technology found in Norton Internet Security 2012, in addition to enhanced PC tune-up and backup capabilities.
Norton 360 beta is designed to deliver one of the strongest, most comprehensive protections for consumers, without sacrificing speed or performance, says the company.  According to Symantec's internal testing, the version 6.0 beta outperforms the award-winning Norton 360 version 5.0 on key performance metrics, including an average improvement of over 50%on file copy impact.
New protection and usability improvements in the Norton 360 version 6.0 beta include:
-        Norton Identity Safe in the Cloud – Protects personal and financial information from cybercriminals and helps keep users protected from fraudulent websites. New streamlined interface, simplified login experience, and ability to store passwords in the cloud make accessibility easy from any computer with Norton Internet Security 2012 or Norton 360 version 6.0 beta installed.
-        Norton Management – New web-based functionality lets users manage their Norton products from anywhere in the world. Users can remotely add Norton products, manage security settings and update subscriptions, making it simple to check on the health of their devices or fix issues from anywhere.
-        Download Insight Stability Ratings – Checks every downloaded file for safety before installation and now provides users with additional data about the predicted stability of the application in their environment based on the stability experiences of millions of other Symantec users.
-        Bandwidth Management – Limits non-critical Norton updates when connected to metered networks to avoid using up monthly data allotments or causing overage fees.
Beta Availability
The Norton 360 version 6.0 beta is available for free public download now at the Norton Beta Center.  Beta testers are encouraged to share feedback and discuss their product experiences in the online Norton Public Beta Forum.
{jcomments on}