Antalis to market Stratasys Idea and MakerBot Professional Plus.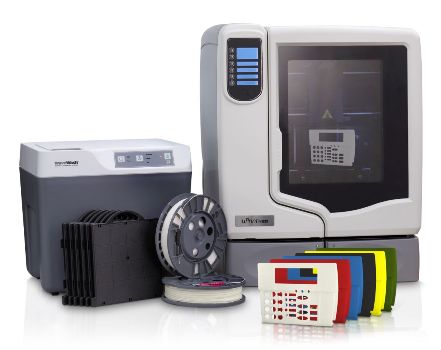 Stratasys uPrint SE Plus Never one to stand still, Antalis has entered the 3D printing market following the completion of a reseller agreement with Art Systems. The agreement means that Antalis is a MakerBot Professional Plus Reseller and Stratasys Idea Series authorised partner of 3D printers that use Fused Deposition Modelling (FDM) technology. In addition, Antalis will also offer expert advice and model sampling for customers who are thinking of venturing into the 3D print market.
Commenting on the announcement, Paul Duffy, Antalis Digital Print Development Manager said,
"The 3D print market is growing at an unprecedented rate. As our customers become more aware of this burgeoning new technology, they are looking for guidance as to how this could fit within their own businesses. We therefore wanted to use our relationships in key markets to develop a 3D print offering that would fulfill the majority of those customer's demands, from entry level to more professional applications."
The MakerBot range is aimed at the education market and the 'prosumer' starting out on the 3D journey, with 4 models ranging from £1,000 to £5,000 to offer differing build volumes. Easy to install and use, the 'MakerBot Desktop' software is designed to give the user instant access to printer functionality, training videos, tips and tricks, technical support and access to over a 1,000,000 free customisable models.
The Stratasys Idea Range is aimed at the 3D professional wanting to create highly accurate prototypes and concept proofs with printers costing £6,500 to £14,500. The quality of print on these devices means complex, working, one-piece models can be created and the water soluble support filament ensures post print fishing is kept to a minimum.
The Stratasys and MakerBot range enable Antalis to offer printers at all price points depending on the customer's specific requirements.
Duffy continued,
"Although 3D print may be too soon for some of our customers, they will be able to learn from us, and start to think about the opportunities that this technology offers."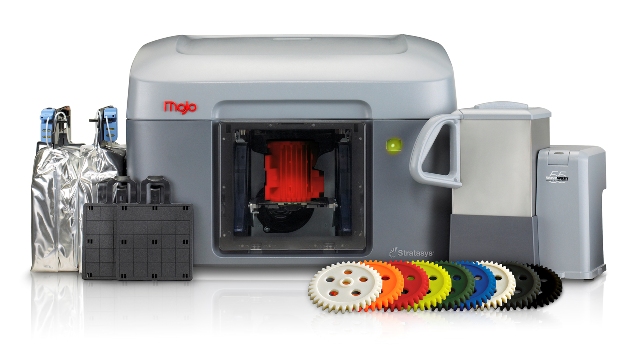 Stratasys Mojo According to him, 3D printing is of interest to educators, designers, engineers, marketers and printers who will find familiarity with the 3D process based on their workflow experience in taking digital files through to print. Therefore 3D printing is a natural fit for those companies looking to introduce cutting edge technology to their range of print services.
"We have already had interest from education, copyshops, display companies, packaging specialists, personalised promotional producers and manufacturing companies. Our customers have heard all the myths and hype that comes with 3D printing so many are now looking for clarification - 'what actually is 3D printing', 'how does it work?' and 'can I make money with 3D printing in my business? Backed by the manufacturers, we are now in the perfect position to help customers understand the potential of this exciting technology."
Antalis will be exhibiting its 3D print offering at The Print Show 13–15th October (Stand D40) at the NEC, Birmingham. It also has a stand at The Higher Education Show at London's ExCeL on 14th October 2015 (Stand 276), where it has 50 premium goody bags to give away to customers who participate in its on-stand free prize draw.
Antalis is also hosting a 3D event at its Digital Academy in Coalville, Leicestershire on 18th November.
For more information contact: This email address is being protected from spambots. You need JavaScript enabled to view it.