A dye sublimation printer for fashion and sports Apparel.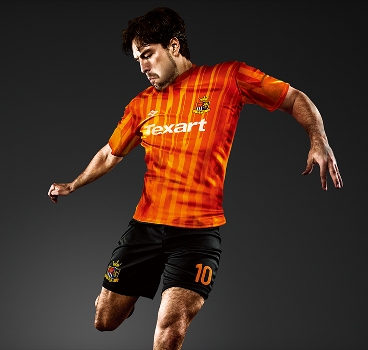 XT-640 Sports ApparelRoland DG, a leading worldwide manufacturer of wide-format inkjet printers and printer/cutters, announced on the 4 November the launch of its new Texart XT-640 inkjet printer for the textile printing industry.
The XT-640 is the second in Roland DG's series of Texart dye sublimation transfer printers, designed especially for the production of colourful fashion, sports apparel, interior design and soft signage. The XT-640 features dual print heads to achieve high-speed performance at print speeds of up to 63m2/h. The rail and frame structure has been developed to enable highly detailed printing with precise ink droplet placement. A new Feed Adjuster at the front and back of the printer provides even tensioning and prevents skewing of the media. Optimised for sublimation printing, Roland DG said that Texart ink delivers bold and vibrant colours with deep, rich blacks. Adding orange and violet inks increases the colour gamut and allows for exceptional reds, oranges, deep blues and purples, while light cyan and light magenta provide subtle gradations, beautiful skin tones and a remarkably fine level of detail. ErgoSoft Roland Edition RIP software, developed especially for Roland DG by ErgoSoft, a leading RIP provider in the textile printing industry, is included with the XT-640.
According to Yuko Maeda, division president of Digital Printing market development for Roland DG Corporation, the XT-640 meets the needs of professional fashion and sports apparel production with excellent output performance and image quality.
XT-640 Roland Ink System "In October 2014," she said, "Roland DG launched the RT-640 as the first product in the Texart brand lineup. With the RT-640, we looked for a wide range of textile decoration applications, including sports and fashion apparel, soft signs such as polyester banners and flags, curtains and other interior décor as well as promotional goods and personalized gifts. Since the RT-640's launch, we have confirmed the demand for higher volume production of fashion and sports apparel. The XT-640 was developed as the ideal solution to meet this need."
Regarding market potential, Maeda said:
"In the fashion field, trend cycles are becoming shorter as seen in "fast fashion" and the desire for personalisation that represents individual preferences and lifestyles. Within these trends, there is growing demand for digital printers that can quickly provide custom one-off and small-lot production. Also," Maeda continued, "in the field of sports apparel, highly functional polyester materials such as sweat-absorbing, quick-drying and dry-touch features have become popular. There is increasing focus on dye sublimation transfer printers that can produce patterns and logos simultaneously while avoiding the uncomfortable seams inside that arise due to post-process sewing".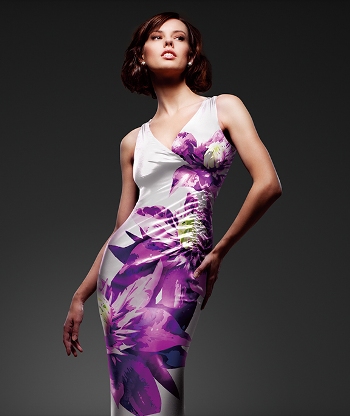 XT-640 Fashion Apparel Prior to the XT-640's launch, Roland DG acquired OEKO-TEX® Standard 100, product class I certification, ensuring the safety of textile items printed with the XT-640 using Texart ink. "Our aim," Maeda said, "is to provide print businesses not only with excellent productivity and image quality, but also with added value including safety and eco-friendly aspects."
Among the long list of features contributing to the XT-640's productivity and ease of use, the Roland Ink System uses one-litre ink pouches to ensure long-run printing. In four-color mode, the system provides two litres per colour. The proprietary Roland Ink Switching System automatically switches to the backup ink pouch when the primary pouch runs out. Further enabling unattended operation, Roland Printer Assist allows users to check printing status from anywhere in the building using an iPad app.
For more information, please visit www.rolanddg.com / www.rolanddg.co.uk
You can Tweet, Like us on Facebook, Share, Google+, Pinit, print and email from the top of this article.
Copyright © 2015, DPNLIVE – All Rights Reserved.