Scitex 15500 Corrugated Press Unlocks New Business Opportunities for corrugated packaging converters.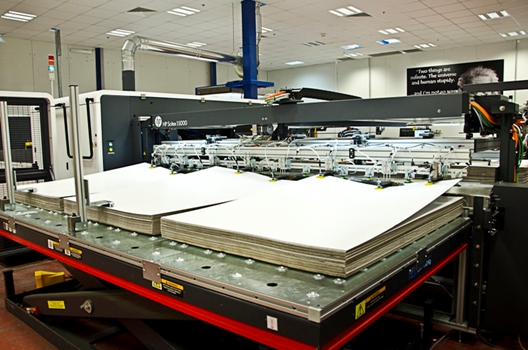 HP Scitex 15500 Corrugated Press at Carmel FrenkelHP has just announced a new digital printing solution for corrugated converters for the high-quality production of displays, retail-ready packaging and other short-run corrugated applications.
The new HP Scitex 15500 Corrugated Press, based on HP Scitex High Dynamic Range (HDR) Printing Technology, has been introduced to deliver significant advances in media handling, ink performance and digital workflow efficiency, bringing the benefits of digital printing to more corrugated converting environments.
"As demand for short-run, quick-turn and variable-data printing increase, converters are challenged to efficiently and cost-effectively meet evolving customer needs without sacrificing print quality," said Isaac Meged, worldwide marketing manager, HP Scitex Industrial Press Division, HP. "The new HP Scitex 15500 Corrugated Press enables converters to migrate more jobs to digital to address these customer demands at a lower breakeven point versus analogue, while maintaining excellent quality and high productivity."
The HP Scitex 15500 Corrugated Press features a new media handling system – the HP Scitex Corrugated Grip – that handles severely warped boards for interruption-free production on industrial-grade standard board. This new technology also enables higher print quality, as printing can be performed closer to the now-flat boards' surface.
"We've seen a significant improvement in media hold down with the HP Scitex Corrugated Grip," said Guy Frenkel, managing director, Carmel Frenkel. "There's no need to manually bend the media before stacking and the machine runs nonstop, so my operators are free for other activities. The press' new configuration means there's no doubt it's the right solution for corrugators."
New low-odour) HP HDR230 Scitex Inks, optimised for printing on paperboard media, have been introduced to provide new economies when digitally printing high volumes of short-run corrugated applications. The inks offer rub resistance and surface durability for high-value, indoor corrugated applications such as counter displays and free standing display units. HP said these benefits may save the need for a costly overcoat, improving margins. HP HDR230 Scitex Inks are part of the HP Scitex portfolio of inks, providing converters with a choice of ink formulations to fit their print application needs.
The HP Scitex 15500 Corrugated Press is expected to be available worldwide beginning May 2015.
You can Tweet, Like us on Facebook, Share, Google+, Pinit, print and email from the top of this article.
Copyright © 2015, DPNLIVE – All Rights Reserved.