A compact flatbed cutting plotter for short run and packaging prototyping.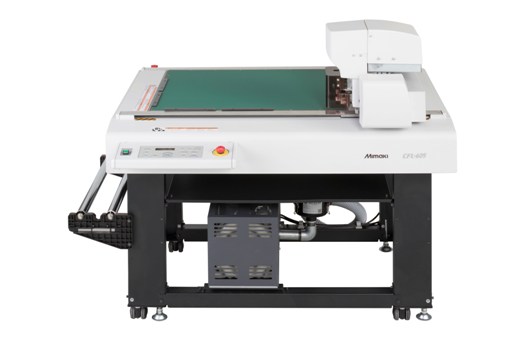 New Mimaki CFL-605 offers short run and prototyping opportunitiesMimaki has announced the launch of the CFL-605RT Compact Flatbed Cutting Plotter which offers both creasing and cutting capabilities. It has been developed to enable the creation and delivery of high quality, cost-effective output and to support immediate finishing of packaging and prototypes with multiple functions.
Mike Horsten, General Manager Marketing EMEA at Mimaki Europe explained. "There is growing demand for on-demand production of prototypes and small lots, both for products and their packaging. This includes fast, efficient prototyping and production of samples as well as small lots of products and packaging that may be modified to reflect different seasonal and regional requirements. There are promotional and special event opportunities, too. In particular, we believe markets such as cosmetics and luxury items will benefit from the ability to produce highly responsive eye-catching packaging with short lead times. Our solutions are specifically designed to meet that need, and we are excited to witness the impact we believe they will have on the market as brand owners and converters alike learn about their many benefits."
The newest addition to Mimaki's family of cutting plotters, the CFL-605RT is a multifunction flatbed cutter that accommodates material sizes up to oversized A2 and features a variety of functions including creasing and eccentric, tangential and reciprocating cutting. Mimaki said that when used in combination with the UJF-6042, the new compact flatbed cutting plotter can achieve on-demand production of the original goods by providing the whole production process, including printing onto goods and packages, and cutting of cushioning materials.
The eccentric cutter has a maximum cutting thickness of 1mm with an optimal downforce setting between 30 and 1,000g.
The tangential cutter features a maximum cutting thickness of 2mm with high downforce pressure, including materials such as reflective vinyl and rubber sheets.
The reciprocating cutter has a maximum 10mm cutting thickness for materials such as foam or cardboard and uses a vertical reciprocating motion.
The creasing roller creases materials for a perfect package. Downforce pressures are adjustable from 500 to 1,000g.
Mimaki is distributed in the UK and Ireland by Hybrid Services Ltd and the company's National Sales Manager – industrial products, Stuart Cole commented; "The launch of the CFL-605RT allows us to offer a unique, fully integrated, small format flatbed print and cut workflow solution. This opens up packaging companies, design agencies and their brands to limitless opportunities for their product prototyping – or, indeed, short run bespoke projects."
Horsten added, "We are also developing a complete end-to-end solution that will not only reduce the time required for prototyping and small lot production, but will also significantly reduce costs and enable a faster time to market. In many cases, these functions can be performed in-house, eliminating outsourcing and further reducing cycle time. These latest portfolio additions are an outstanding example of our mantra of 'Let's Create… Together!' coming to life."
To see more articles relating to Mimaki please visit http://www.dpnlive.com/index.php/component/search/?searchword=Mimaki&ordering=newest&searchphrase=exact&limit=20&areas%5B0%5D=content
http://www.hybridservices.co.uk/
You can Tweet, Like us on Facebook, Share, Google+, Pinit, print and email from the top of this article.
Copyright © 2015, DPNLIVE – All Rights Reserved.