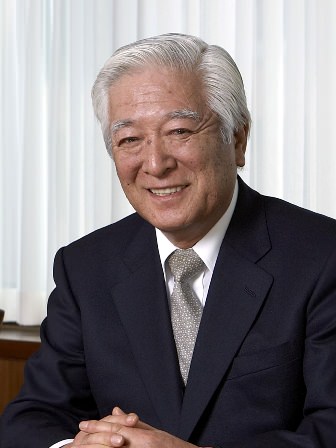 Mr KOMORI
Komori and Landa have entered a global strategic partnership in which the Israeli corporation will license Komori to manufacture and market digital printing presses for commercial and other printing markets using Landa's nanographic printing process.
Landa nanography is an innovative digital printing category using water-based inks. It combines the versatility of digital with the qualities and speed of offset printing – Landa claims this delivers unmatched cost-per-page.
Yoshiharu Komori, president and chief executive, Komori, Said: "As a specialist manufacturer of printing presses for many years, Komori Corporation provides printing systems capable of producing a wide range of printed goods for the commercial, packaging and currency printing markets. We see growing demand for variable data printing and personalisation, especially for niche applications, which we are addressing with our already-announced DigitalOnDemand solutions. However, there is also ever-growing customer demand for shorter and shorter run lengths as well as very short turnaround times. To meet these commercial printing market needs, we have embraced Landa nanographic printing as a powerful solution for our next generation sheetfed and webfed digital systems that use water-based inks. Moreover, this decision accords with Komori's new policy of operating as a 'print engineering service provider' to meet various future-oriented demands from customers."
Benny Landa, chairman, chief executive and founder, Landa, says: "We have enjoyed an intimate relationship with Komori which supplies our paper handling platforms for our new nanographic sheetfed presses. Komori was the first to be exposed to our technology and was the first to share our vision. I am therefore particularly delighted that Komori is the first-to-be-announced global strategic partner with whom we will be sharing this huge market opportunity. With its highly respected position in the printing industry and its broad market access, Komori is well-placed to accelerate the worldwide adoption of Landa nanographic printing."
The partnership means Landa will provide Komori with nanographic printing technology and Landa NanoInkTM – both at the heart of the Nanographic Printing process. Composed of pigment particles only 10s of nanometres in size, these nano-pigments are extremely powerful absorbers of light and enable exceptional image qualities. Landa nanographic printing is characterised by ultra-sharp dots of extremely high uniformity, high gloss fidelity and the broadest CMYK colour gamut.
Landa nanographic printing uses ink ejectors to create the digital ink images which get applied to the printing stock in a process that can operate at extremely high speeds. It creates images offering remarkable abrasion and scratch resistance. Most notably, it can print on any off-the-shelf substrate, from coated and uncoated paper stocks to recycled carton; from newsprint to plastic packaging films – all without requiring any kind of pre-treatment or special coating – and no post-drying. Nanographic images are only 500 nanometres thick – about half the thickness of offset images – enabling Landa NanoInkTM to produce what it terms as 'the lowest cost-per-page digital images in the industry'. Landa also highlighted the fact that all of this comes from a water-based, energy-efficient and eco-friendly process.
"Komori's decision to adopt nanography for its next generation of digital presses is an important milestone in the march of this innovative technology," added Landa. "This strategic partnership significantly broadens its potential to become the new industry standard for mainstream printing."
Copyright © 2012, DPNLIVE – All Rights Reserved