Written by Margaret O'Farrell
---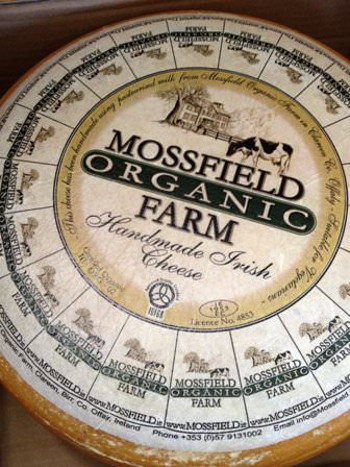 Mossfield Organic Farm is owned and operated by Ralph and Lorraine Haslam and is based in the Midlands of Ireland in Clareen, Birr, Co Offaly at the base of the Slieve Bloom Mountains. Did you know that the Slieve Bloom Mountains are reputed to be the oldest mountain range in the world?  Even older than Mount Everest!  Ralph wonders does that make him the oldest farmer in the world.  He says it feels like he is sometimes!
There is so much history attached to the old house and farm!  The family of Charles Carroll, a signatory on the US Declaration of Independence lived on the property.  Charles' ancestor, Daniel, a descendant of the O'Carroll's - Lords of Ely - left the property around 1659 and travelled to Maryland, USA.  I am sure when Daniel was leaving he did not realise that it would be a grand descendant of his that would be one of the 56 signatories on the American Declaration of Independence.
After the departure of the Carroll's, the next famous family to live on the land was the Stoney family.  Bindon Blood Stoney was a brilliant inventor who devised an ingenious way to build dock walls (and also designed the first diving bell).  He was born in Clareen.  Bindon and his brother, George (who 'invented' the electron) worked at one point as astronomical assistants on the great Leviathian telescope at Birr Castle
The land at Mossfield consists of limestone pasture with a grass interwoven with wild herbs and clover - producing lush green grass - so suitable for dairy farming.  Ralph and Lorraine have been farming here since 1970.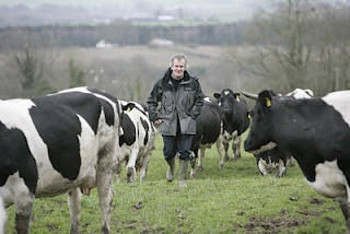 In 1999 the Haslam's made the decision to "go organic"; a brave decision at the time.  However, being forward thinking is an important factor in today's Ireland.  Farming is after all a business, and there is a need to constantly rethink and reinvent methods and procedures. !
Like so many farmers Ralph had to start thinking 'outside the box' as sticking with just traditional farming was no longer a viable proposition for the farm.  In 2005 it seemed a natural progression.... Mossfield was producing delicious organic milk, so why not look at producing cheese?
In the initial stages the cheese was made off-site, but as its reputation grew and it won  many awards, it was time to re-evaluate again The decision was made to build a purpose-built cheese manufacturing facility on the farm.  This was a huge decision!  Ralph and Lorraine so believe in their cheese that they knew it was the right thing to do.
The cheese is now hand-made at the facility using milk straight from the farm.  Lorraine supervises the cheese making, it is all handmade, and hand turned.   This Gouda style cheese is available in a number of different flavours and as they use vegetarian rennet it is suitable for vegetarians.
The younger cheeses have a lovely mild flavour, and as it matures the taste gets stronger.  My personal favourite is the cumin seed cheese!  Absolutely delicious!
Ralph is a passionate advocate of the Mossfield organic brand and has a successful track record in selling. Despite limited resources the brand has achieved a high profile, and has consistently won awards - Great Taste, Bridgestone Award, and Irish Food Writers Guild Award.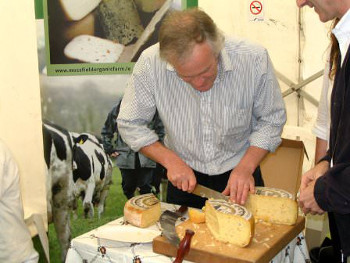 The popularity of the range of cheeses has grown enormously from those early days.  Now Mossfield Organic cheese is in demand not just in Ireland, but has become an international brand.  It is now available in various European countries, and most recently in the USA.
On his last trip to Ireland, it is rumoured that Bruce Springsteen bought the entire stock of Mossfield Cheese from one Dublin shop - he liked it so much!
Ralph and Lorraine are not resting on their laurels though!
Jonathon, Ralph and Lorraine's son, has now joined the team.  Jonathon runs The Organic Store in nearby Birr, but recently has been working with his father on developing other by-products from their milk!
Cartons of Mossfield Organic Milk are now in selected stores.  The newly branded Cheddar - Slieve Bloom Cheddar is available as well as the Mossfield Organic Buttermilk and yoghurt.   Mossfield Organic Butter will soon be hitting the shelves as well. Just wait until you taste their cream cheese! I've had a preview tasting - it is delicious.
Mossfield Organic will continue to diversify and review its product range, building upon the consumer's desire for pure, clean and delicious products.
Ralph Haslam
Mossfield House
Clareen
Birr
Co. Offaly
Tel:  00353 (0) 86 8928375
Web site:  www.mossfield.ie
Facebook: www.facebook.ie/MossfieldCheese
Copyright © 2012, DPNLIVE – All Rights Reserved