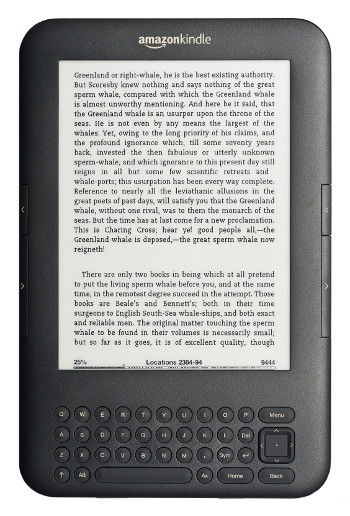 MP3s and digital downloading revolutionised the music industry, yet despite the arrival of e-books in 1998 it's taken until now for them to finally take off. Data just released by Amazon.co.uk confirmed that it received orders for more than twice as many Kindles in the run-up to Christmas this year compared to the same period in 2010. The company expects this growth to continue during 2012. If you found an e-reader in your Christmas stocking last year, however, will your new digital tablet save you money when it comes to reading books?
Let's look at some facts! In the US, where e-book sales have been growing by over 1,000 per cent a year over the past three years, it is predicted that by next year e-books will account for about 20 per cent of all book sales.
Here in Ireland the rise has not been so dramatic but recently Amazon's Kindle e-reader has not just been available from its US site but also from outlets of PC World, Curry's and Tesco.
Eason's got in on the act by setting up e-stores in more than 30 of its outlets around the country, including Dublin's O'Connell Street and Dundrum Town Centre. The company expects the digital book market to account for nearly 8 to 10 per cent of the market this year.
Competition, however, is kicking in and this is affecting price. In the US the basic Kindle model starts at around €60. Here if you buy online from Amazons US version a 3G model would set you back around €193, including delivery.
A cheaper Wi-Fi model is now available in the Irish shops retailing at about €110. With a 3G model, however, you don't have to connect to the internet to download books and there is no charge for 3G connection.
Although the Kindle dominates the market, there are other options. Eason's is offering an e-reader at €99 for an Elonex 621eb Ereader, which holds 1,000 books. Other options include a Sony Wi-Fi reader, which comes in a range of colours and has a touch-screen, for €149. It can store up to 1,200 books. And then there is the Apple iPad, which from €479 comes with a lot more applications than just reading books.
Like many other things in life, however, it seems publishers are reluctant to undercut the traditional book. This may sound like a no-brainer since if the publisher doesn't incur printing costs the book should be cheaper. Not so in a lot of cases.
There is one great advantage that digital books have over their paper alternative and that is the range of titles you can download for free. Copyright usually lasts for only 70 years following an author's death so there is a huge selection available that can be downloaded for free – legally – onto your e-reader. If you want a copy of a Charles Dickens book in a book shop you will still have to pay for it. The same book is now likely to be free on an e-reader.
Copyright © 2011, DPNLIVE – All Rights Reserved