New automatic sheetfeeder for the S3 cutter series to be unveiled at exhibition.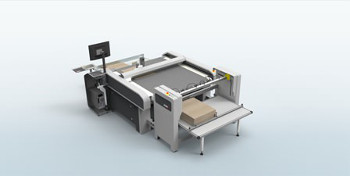 Zünd Sheet Feeder for S3 Digital CutterZünd has confirmed that it will showcase the brand-new automatic sheetfeeder for the S3 cutter series at Viscom in Düsseldorf, Germany, 7 – 9 November (Hall 8B | Booth L20).
The company said that with the successful launch of the G3 in 2008, Zünd Cut Center software in 2010, the Board Handling System in 2011, and the S3 cutter series in 2012, Zünd continues to live up to its mission to be "The first choice in digital cutting".
Automatic sheetfeeder for S3
The automatic sheetfeeder for the S3 boasts a high level of productivity and reliable loading of sheeted materials designed to turn any Zünd cutter into a fully automated production system. Because it is a fully automated workflow, Zünd said that it puts users in a position to accept even larger orders and fulfil them quickly and efficiently.
Tandem vacuum system
Another productivity innovation to be shown at the show will be the tandem vacuum system. This option allows for efficient loading/unloading of materials on one side of the cutter, while production continues on the other. As soon as one job is completed on that side, the cutter switches over to the opposite side and resumes cutting. Meanwhile the operator can unload the cut materials and reload more in preparation for the cutter to switch back over. This "pendulum workflow" feature has been developed to save time and increase productivity by keeping idle time to a minimum.
Zünd Design Center
The Zünd Design Center will also be on display, where users can now create professional-quality packaging and displays directly in Adobe Illustrator. The core of the software consists of a comprehensive library of parametric designs. From this collection you simply select a suitable design and apply the desired measurements. Images, logos and patterns can be added and it can even be examined in 3D mode which allows for it to be presented to a customer as a 3D model in PDF.
Zünd will be demonstrating its high-speed cutting on the new EOT 250 at Viscom as well. The new machine will be processing sandwich-board materials such as X-Board, Reboard, etc., up to a thickness of 22 mm.
For more information, please visit our website at www.zund.com.
Follow us on Twitter - @DigiPrintNews
Like us on Facebook www.facebook.com/DPNLive - (click the 'LIKED' button/top of page as well)
Copyright © 2013, DPNLIVE – All Rights Reserved.