Company to offer speed, flexibility and

cost-savings with the Highcon Euclid.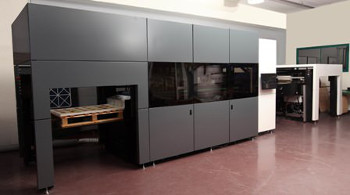 The Highcon Euclid combines patent-pending DART technology to create the digital crease linesUK based Glossop Cartons has placed the world's first production order for a HighconTM Euclid digital cutting and creasing machine. The Derbyshire Company is now one of the UK's leading manufacturers of carton board packaging products for blue-chip organisations across the UK and the new investment has been made to enable it to offer customers faster speeds to market, greater flexibility and cost savings on shorter runs.
Glossop Cartons' decision to be the first in the world to confirm an order for this new technology was explained by director Jacky Sidebottom. "Glossop Cartons is constantly looking for new ways to improve its products and services for customers," he said. "The Highcon Euclid opens up a new range of possibilities for our customers: bespoke packaging, short runs, pushing design boundaries and being able to respond to seasonal product changes cost effectively.
"This direct-to-pack concept fits perfectly with our company values of innovation, responsiveness, competitiveness and customer focus."
The Highcon Euclid combines patent-pending DART technology to create the digital crease lines, with an innovative high speed and high quality laser cutting solution. It does not require a conventional Die, thereby removing Die production time and additional machine set-up. The end result maintain Highcon, is greater versatility and flexibility to respond to customer needs, meet tighter deadlines and deliver short and medium run length jobs profitability.
Mark Nixon of Conversion-UK Ltd, Highcon's channel partner in the UK, who closed the deal with Glossop Cartons said: "Glossop Cartons is an ideal candidate for the Highcon Euclid. It specialises in offering customers flexibility and service and the digital cutting and creasing capabilities of the Euclid will allow them to enhance their product offering and bring quality packages to the shelf even more rapidly."
It is believed that Glossop Cartons will take delivery of this new technology solution in April 2013. As an early adopter of the Euclid, Highcon will be working closely with Glossop Cartons to develop its potential.
The company will be exhibiting at the upcoming Packaging Innovations Show in Birmingham, February 27-28th, 2013. Visitors will be able to visit its stand A46 and find out more about Euclid. Visitors will also be able to hear Chris Baker, Highcon VP sales and business development, together with Jacky Sidebottom, director of Glossop Cartons on Wednesday 27 February 2013 from 15:45 - 16:15 in the PRINT INNOVATIONS Learn Shops Theatre, talking about digital finishing for folding cartons; the science behind the magic.
http://www.glossopcartons.co.uk/

Follow us on Twitter - @DigiPrintNews
Like us on Facebook www.facebook.com/dpnlive - click the 'LIKED' button/top of page as well
Copyright © 2013, DPNLIVE – All Rights Reserved