Esko showcases its "print to cut" solutions at FESPA Digital 2012 in Barcelona from February 21st to 24th. The global supplier of integrated solutions for packaging, sign and display finishing, commercial printing and professional publishing, plans to demonstrate solutions that streamline the entire workflow, including the printing and finishing of sign and display applications.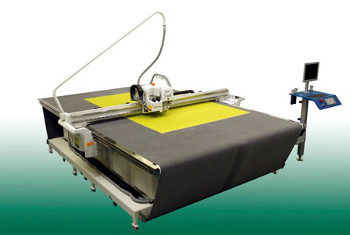 Esko Kongsberg i-XP24CKey products on show will be the Kongsberg i-XP24 and Kongsberg i-XE10 Auto digital cutting tables. Alongside these will be the i-cut Suite including the newly launched i-cut Automate. Esko says these end-to-end solutions deliver the most versatile equipment for the digital finishing of signs and displays.
Taking centre stage at the show will be the Kongsberg i-XP24 with sheet feeder. Esko claims it's the market's leading digital finishing solution specifically designed to deliver unsurpassed productivity and perfect registration. The table is equipped with i-cut camera-based registration and also has multiple quick-change cutting tools that allow manufacturers to easily handle a variety of materials.
The second highlight is the Kongsberg i-XE10 Auto, fully automated, die-less digital finishing solution, specifically aimed at the growing demand for finishing of small-format, short-run digitally printed material, particularly sign and display graphics.
i-cut Automate is the latest addition to Esko's successful i-cut portfolio, part of the EskoArtwork Suite 10 – an integrated solution to streamline the entire sign and display manufacturing workflow, from design to print to cut.
It includes:
- i-cut Preflight which handles preflighting and editing of incoming PDF files, designed to ensure that jobs will RIP and print correctly.
- i-cut Layout is a module for interactively building and editing sheet layouts, ensuring that jobs are set up to make the optimum use of the substrate. It also enables file preparation for printing, through adding grommet marks and creating cut paths and bleeds.
Esko claims that i-cut Automate delivers all of these functions in a single automated workflow, with less operator intervention required and fewer potential manual errors. In essence, the newly launched i-cut Automate ties all the pieces of the i-cut Suite together. Esko adds that i-cut Automate can also be integrated with management information systems, enabling automatic job creation and the submission of job parameters to the workflow via XML data.
The i-cut Suite includes workflow automation and editing tools that specifically support die-less digital finishing. It has three core modules: i-cut Preflight to check incoming PDF data; i-cut Layout to handle the layout and nesting of sheet layouts; and i-cut Vision Pro to ensure die-less cutting contours perfectly match the printed images.
Esko has also been selected as software and digital finishing partner for the Print Shop Live at FESPA where it will demonstrate the capabilities of its Kongsberg i-XE10 digital finishing solution and i-cut Suite software.
Esko can be found in Hall 3 stand H5 at the show.
Copyright © 2011, DPNLIVE – All Rights Reserved