Printix Installs first EFI VUTEk LED roll-to-roll printer.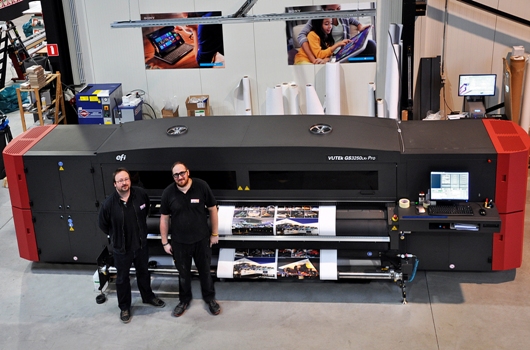 Manager Johan Ceuleers and large format print operator Jasper Corne, in front of the EFI VUTEk® GS3250LXr Pro roll-to-roll printerEFI™ announced that Printix, a large-format printing company based in Mechelen, Belgium has become the first company in the country to purchase the EFI VUTEk® GS3250LXr Pro roll-to-roll LED printer. It was the machines ability to fill a wide variety of orders-from photo-quality prints and textiles to vehicle-wraps-on a single device that secured the investment, as well as saving the company time and opening the door to new applications in new markets.
"The printer you ultimately choose has to be suitable for your existing business, but preferably also has features with which you can approach other market segments. This is no mean feat for a small company like ours. Of all of the printers we looked at, the VUTEk printer ultimately turned out to have the best credentials. It's simply the most versatile printer on the market, and an extremely robust and reliable one. The fact that ours is the first installation in Belgium is of course more than welcome," said Johan Ceuleers, Printix general manager.
One of the deciding factors in Printix's decision was the ability to use co-developed EFI and 3M™ SuperFlex UV inks. "These inks have the unique quality of remaining flexible following UV curing. We have conducted several tests on extreme shapes and the print does not display any cracks. If you follow their application procedures, 3M also offers a seven-year MCS™ Warranty on fading and cracking of vehicle graphics. Projects for which we had to use solvent printers can now be printed with the SuperFlex UV ink on the VUTEk printer, and, in turn, that's better for the environment," added Ceuleers.
He appreciates the printer's other environmental benefits as well. "Compared with a latex or traditional UV printer, energy consumption is more or less three times lower. If you calculate that on an annual basis, you soon arrive at a difference of a few thousand euros. What's more, the LED lamps account for 10,000 hours of usage, which is around ten times longer than a conventional UV lamp. Another advantage of LED technology is that it has a cooler cure than traditional curing methods, making it ideal for printing on heat-sensitive materials," he said.
Printing on textiles for backlit displays represents a sizable piece of Printix's business. "The VUTEk machine has a 'Double Density' print function ensuring that when printing on textile, the colours and the black are much more intense. We achieve a quality comparable to sublimation prints, which is certainly unique. We always had to outsource projects such as these before, but now they just run with the rest of the production," remarked Ceuleers.
"Whether its textiles, vinyl or other substrates, it makes no difference. It all goes through one single machine, and we think that's just wonderful. You don't hear anyone complaining here."
http://www.printix.be/
EFI™ (www.efi.com)
You can Tweet, Like us on Facebook, Share, Google+, Pinit, print and email from the top of this article.
Copyright © 2015, DPNLIVE – All Rights Reserved.