Kiian digital presents new ink portfolio for industrial printers at SGIA.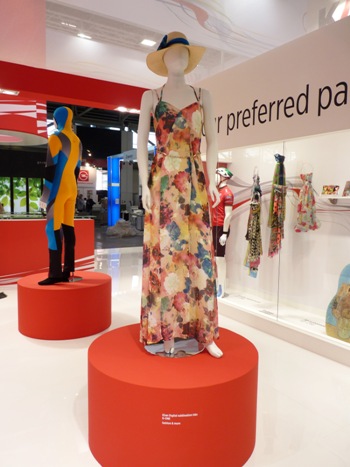 Kiian Digital's product portfolio, showcased at SGIA, complies with the most important textile standardsKiian Digital has chosen SGIA 2015 (Atlanta, November 04-06 2015 • Booth 3463) to launch its new industrial ink series designed for Panasonic printheads.
Digistar Sublisonic is a dye-sub transfer ink portfolio, compatible with Panasonic printheads. The company highlighted the fact that the new range has bright colours which enable a wide colour gamut and dry quickly, optimizing production time.
"Different printheads demand different inks. To ensure our customers have the flexibility to utilise different technologies, Kiian Digital responds to this market requirement providing its customers the best inks for each printhead," said Marco Girola, Kiian Digital Marketing Specialist.
Kiian will also showcase its range of water based inks for Epson printheads, including the Digistar HI-PRO dye-sublimation transfer ink. This, from the company's perspective, is now the benchmark for quality and consistency. Digistar HI-PRO prints onto light- and low-coated papers at high speeds with reliable output. The range now includes blue and orange to increase the number of colours that can be reproduced.
"The combination of high-speed printing onto light- or low-coated papers and high concentration inks provides our customers with cost-effective production," notes Alessandra Borghi, Kiian Digital Sales Director.
Kiian Digital's product portfolio complies with the most important textile standards approved by the Worldwide Textile System.
Kiian inks are matched to specific print heads for optimum performance and the highest quality results "Compliance with global standards is increasingly important to our customers and, in turn, the end consumer. SGIA 2015 will provide the ideal platform to communicate the benefits of choosing an ink range that meet these industry standards," observed Martin Swift, JK Group Corporate Development Director.
http://www.kiiandigital.com/en
You can Tweet, Like us on Facebook, Share, Google+, Pinit, print and email from the top of this article.
Copyright © 2015, DPNLIVE – All Rights Reserved.