Bank of Ireland to veto any debt write-down.
---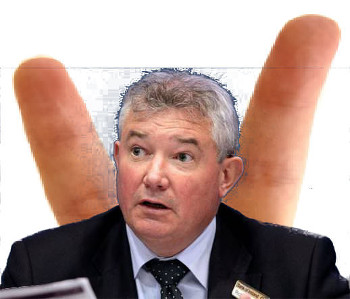 Richie BoucherWhy is it that the banks in Ireland don't seem to want to play their part in the new personal insolvency legislation? After all, it's designed to drag our archaic laws in this area closer to what most other European counties have adopted as a reasonable model for personal debt relief.
---
The fact that the Irish taxpayer, via the State, had to pour billions of Euro into them to shore up their balance sheets seems to have been forgotten, certainly if you listen to the remarks made by Bank of Irelands(BOI) CEO, Richie Boucher, who recently made it quite clear that he will veto any write-downs for struggling mortgage holders.
In essence what he was doing was putting two fingers up to the State by his statement.
The debt write-down is a key part of the new legislation, and the stance being taken by BOI and some other banks has been condemned, albeit, mildly by Lorcan O'Connor, chief executive of the Insolvency Service of Ireland (ISI) who is now under serious pressure from members of the Oireachtas (parliament) Finance Committee to act firmly with this apparent blatant disregard of the new law.
At a recent meeting of the committee, he came under fire for not picking up the phone to Boucher after the latter said his bank would seek to veto any mortgage write-down for its customers.
O'Connor is quoted as saying he was "disappointed by the comments" made and admitted "red flags" had been raised by Boucher's statement. He went on to say that he vowed to meet up shortly with BOI's CEO over his stance on this issue.
The ISI's chief added that the service has "achieved an enormous amount" since it was set up a year ago.
However, like salary caps and bonuses, Irish banks, similar to their counterparts worldwide really don't seem to care what anybody else thinks as long as they can continue to play football the way they have always done.
Maybe it's time for somebody to put the 'boot in'!
Follow us on Twitter - @DigiPrintNews
Like us on Facebook www.facebook.com/DPNLive - (click the 'LIKED' button/top of page as well)
Copyright © 2014, DPNLIVE – All Rights Reserved.